Rooting travel in local heritage to restore glory
Xiufeng district, or the beautiful peak district, of Guilin, Guangxi Zhuang autonomous region, is named after Duxiu Peak in Jingjiang Prince Palace, which lies at the center of the district.
The Duxiu Peak, or solitary beauty peak, is 66 meters high and one of the earliest tourist spots in Guilin. Because it has attracted many famous poets and writers to Guilin in history, it is an origin of the city's tourism industry, according to Pang Tiejian, vice-director of Guilin tourism bureau.
"Different generations of writers left their essays or poems carved on the cliff of the peak, making it a record and witness of the city's history and culture."
The Xiufeng district government pays special attention to rooting its historical culture in that which developed around the peak and the palace.
Dongxi Lane, or east-west lane, and the Xiaoyao Building, or leisure building, are two places of historical interest that the government has renovated and rebuilt near the palace. With a number of old shops and celebrity residences, Dongxi Lane is one of the oldest commercial roads in Guilin and has more than 1,000 years of history. Since its reopening in late April, it has received nearly 1 million tourists and has become a must-see spot for travelers in Guilin.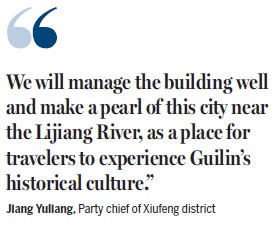 "I am confident with my business here, because the area has a rich cultural and fashionable atmosphere," said Cheng Liwen, an eatery owner in the lane, who specializes in shaobing, Chinese-style muffins.
"I sell more than 200 shaobing a day on average. If so, I can get back my investment in three months. I am planning to open a second eatery in Guilin."
According to Tang Yunhui, the rental center director for the lane, more than 85 percent of shops have been rented out since April and 20 percent of them are leased to international brands.
"The lane used to boast a number of famous Chinese brands. It will regain its glory in the near future," Tang said.
The hustle and bustle in Dongxi Lane and the renovation of the old buildings along the lane according to their original look has made local residents happy.
Zhao Xinxin, 78, said: "I have lived here all my life. It looked exactly this way before."
The Xiaoyao Building used to be one of the four most famous buildings in ancient China.
The Guilin government started rebuilding it in January last year, with 20 million yuan ($3.08 million) in donations from 20 local enterprises. It was finished in July last year.
The donation showed Guilin entrepreneurs' common wish to continue the city's long cultural tradition as a regional cultural center in South China.
"We will manage the building well and make a pearl of this city near the Lijiang River, as a place for travelers to experience Guilin's historical culture," said Jiang Yuliang, Party chief of Xiufeng district.
Zhao Leqin, Party chief of Guilin, said the Dongxi Lane and Xiaoyao Building have become new landmarks on Guilin's cultural map, and are something that "we should leave for posterity".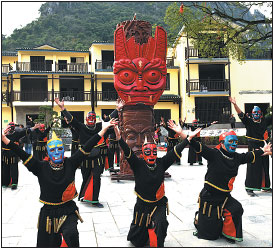 Nuo dance is a cultural heritage in Lujia village, a key cultural tourism zone in Guilin.Tang Shunsheng / For China Daily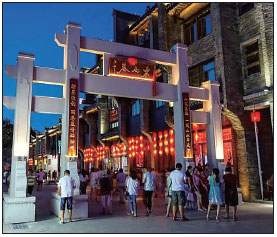 Dongxi Lane is one of the oldest commercial roads in Guilin.Zhu Jiang / For China Daily
(China Daily 10/18/2016 page12)
Today's Top News
Editor's picks
Most Viewed