Twelve years ago, 31-year-old Frederic Choux came to Dalian to set up his own business by bringing top-quality French wine to China.
His wine business continues to boom, with sales expanding from Dalian to seven domes-tic cities, including Shenyang, Shanghai, Beijing and Chengdu. Choux loves this coastal city in Northeast China's Liaoning province and has never thought of moving to another city since then.
"No matter where I go, I will come back to Dalian. My office is here, and my life is here," said Choux, who is on business trips across China over half of the time each month.
In order to ensure their quality, all the wines are kept at a constant temperature: 15 C during transportation, storage and sale.
Choux chooses every brand in each of his wine manors him-self. In addition, he insists on not employing commercial agents, but cultivating his own team. "The stable team guarantees good quality and professional service," he said.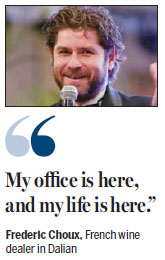 Choux does not worry about the so-called "guanxi" (relationship), which has been regarded as an important factor in doing business in China. For him, the influence of relationship exists not only in China, but everywhere around the world.
"Everyone wants to do business with people they trust. Compared with strangers, you are eager to cooperate with your friends. It should not be regarded as an obstacle. No matter where you do business, you need to make friends."
There are more and more merchants with wine business-es in China now. Wines from every region are sold, including those from France, Italy, Australia, South Africa and so on. Choux admitted that the Chinese language is a great weakness for him, although language is not an obstacle for a convenient life.
"I like walking. In my spare time, I take a taxi to Xinghai Square and walk along the beach. As the city is well constructed, I feel comfortable everywhere," he said.
He has made plenty of Chinese friends, with whom he dines on gourmet food and fine wines. What's more, he establishes new contacts and communicates with people from all trades and professions.
There's no communication gap in hailing a taxi or doing some shopping if you can grasp daily expressions, he said. "To do business, I think the most important thing is to provide the best products."
"If I could speak Chinese, I would be able to communicate with local people better and develop the market more easily," he said.
Now, Choux is enjoying his life in Dalian. He goes back to France twice a year for a break, as well as to search for new suppliers and products.
He also invites his parents to visit Dalian from time to time. "French cities are small, and Dalian is a big city for us. With mountains and the sea, the city is so beautiful and my parents like it very much, too," he said.
(China Daily 09/30/2016 page6)