The central government recently announced that free trade zones will be set up in seven provinces and municipalities, including Sichuan. Shuangliu district in the southwest of Chengdu is expected to have a big role to play.
According to officials at the Sichuan Bureau of Commerce, the Sichuan FTZ will be mainly in the provincial capital of Chengdu.
Officials also said the Sichuan FTZ will be developed by integrating the existing industrial zones and parks.
Shuangliu district is expected to pilot the development of Sichuan's FTZ, as it contains a number of establishments for trade facilitation, according to officials at the district government.
The district has a comprehensive bonded area, the largest airport in western China and an airport bonded logistics center, which are crucial facilities for the development of a free trade zone.
The Shuangliu Comprehensive Bonded Area is a combination of the former Chengdu Export Processing Zone and the Chengdu Bonded Logistics Center. It was established in November 2010 and was operational by July 2012.
The bonded area offers businesses with such services as warehousing, exhibition and customs services.
Inside the area, companies can enjoy a number of incentives in taxation, warehousing, financing and customs clearance. Manufacturing enterprises can be exempted from import duties when importing raw materials and equipment from overseas.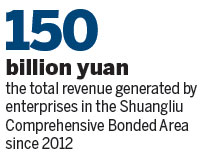 There is a 5,000-squaremeter exhibition and sales center for consumer goods, which is a great facility for importers in Chengdu and exporters from around the world.
The center is now home to outlets for more than 40 companies, displaying and selling imported food, beverages, cosmetics and other consumer goods.
To date, the bonded area is home to about 70 enterprises, in fields including manufacturing, biomedicines, equipment leasing, aircraft repair, warehousing, logistics, trade and e-commerce.
The heavyweight projects in the area including the manufacturing facilities invested by Taiwan's electronics giants Compal and Wistron.
The Compal and Wistron projects, each with investments of $500 million, are among the largest laptop computer manufacturing facilities in Chengdu.
From 2012 to now, enterprises in the area generated 150 billion yuan ($22.5 billion) worth of revenue in total.
zhuangti@chinadaily.com.cn
(China Daily 09/24/2016 page20)