Since its registration in Shuangliu Southwest Airport Economic Development Zone, Chengdu Eoptolink Technology has developed into the country's leading optical transceiver module developer and manufacturer in just five years.
Optical transceiver modules are the basic elements for optical communications and have a broad range of applications in many fields.
According to Gao Guangrong, chairman of the company, Eoptolink is now exporting its products to overseas markets including Europe, North America, the Middle East and Southeast Asia, while meeting the demands of the domestic market.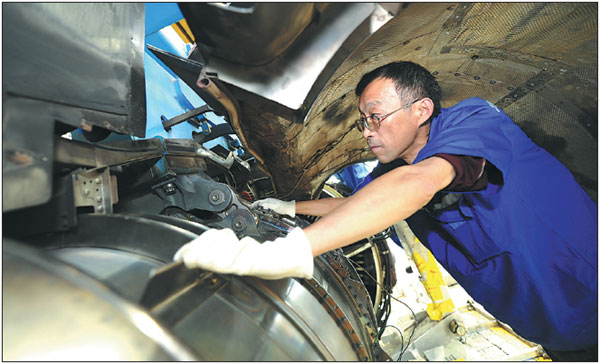 Aircraft maintenance is a key industry in the Shuangliu Southwest Airport Economic Development Zone. Photos Provided to China Daily

Quality products and premium brands from many countries are available in the exhibition and sales center for consumer goods (right) or the Times Outlets, both in the development zone.
The company was just listed on the China Growth Enterprise Market in March. At present, its market capitalization surpassed 8 billion yuan ($1.2 billion), according to Gao.
Gao said his company has been "nurtured by the fertile land" of the development zone.
He specifically mentioned the zone's advantageous location, the excellent environment for business and living, and the efficient government services.
"The zone is next door to the Chengdu Shuangliu International Airport, which makes it possible for our products and services to reach global clients as quickly as possible," said the chairman.
He said Shuangliu is a satellite city of Chengdu. It has a good ecology, high-quality and cost-effective living communities and shares all educational, scientific and cultural resources with Chengdu, which are all factors attracting investors and professionals from home and abroad.
Chengdu HiWafer Technology Co Ltd is another example of a business benefiting from the zone's top-notch services.
HiWafer is China's first pure-wafer foundry service provider, which provides sixinch GaAs/GaN monolithic microwave integrated circuits.
The company began to invest in the airport zone in 2010, with investments totaling 2.09 billion yuan.
Lin Li, deputy president of the company, said: "We have enjoyed strong support from the local government."
The administrative committee of the airport zone has applied to the National Development and Reform Commission for financing a special development fund, totaling 2.66 billion yuan, to support local high-tech companies.
According to Lin, her company is on the list for support, and is eligible to get 100 million yuan worth of funding.
"With strong backing from the government, I believe our company will become an industry player with global influence," Lin said.
Hu Tangxiang, president of Chengdu Jieyi Electronic Co Ltd, said he appreciates the "Shuangliu speed" and efficient services offered by the government.
It took less than 10 months for the company to go all the way from business registration, to construction, to installation and to trial operation.
"The highly efficient one-stop shop for administrative services is definitely a surprise to companies like us. We are confident in the future of the development zone," Lin said.
Shuangliu Southwest Airport Economic Development Zone located in Shuangliu district, Chengdu, was established in May 1992. It is the earliest provincial-level development zone in Sichuan.
The zone is now home to 168 large and medium-sized enterprises, including operations of 16 companies on the Fortune Global 500 list, 34 listed companies and 93 high-tech firms.
The zone contributes more than 60 percent of the GDP to Shuangliu district, making it the most powerful engine for local growth.
The zone is adjacent to the Chengdu Shuangliu International Airport, the fifth-largest airport in China, enjoying easy connections to the country and the world.
The total planned area of the zone is 85.6 square kilometers, with functional zones dedicated to industry, residential communities, higher learning and research.
There are also supporting facilities like shopping malls, star-rated hotels, primary and middle schools, and entertainment and sports venues.
The four-sq-km Shuangliu Comprehensive Bonded Area is inside the zone, offering a range of trade facilities for local companies.
The zone sticks to a new approach of industrialization by highlighting such emerging industries as electronics, advanced manufacturing, biomedicine and new energy.
The zone is home to 41 higher learning and research institutions, 11 national key laboratories and a number of other research and development facilities, offering strong technological and intelligent support to local businesses.
In addition to the effective government services, local companies can also enjoy support from professional companies for financial, legal and intellectual property-related services.
zhaoshijun@chinadaily.com.cn
(China Daily 09/24/2016 page20)