China International Small and Medium Enterprises Fair, held in Guangzhou, the Guangdong provincial capital, every autumn, has become an important platform for small and medium-sized enterprises from home and abroad to expand cooperation and achieve win-win deals.
He Zuoxian, deputy director-general of Guangdong SME Bureau and director-general of the Bureau of CISMEF, said the fair now has also become a venue for Chinese and foreign SMEs to learn about the latest development trends and opportunities.
"During the forthcoming 13th CISMEF that will open in Guangzhou in October, many senior officials, scholars, experts, business executives and entrepreneurs from home and abroad will discuss the new development pattern of SMEs and propose their valuable advice for the growth of SMEs," He told a press conference in Guangzhou on Tuesday.
The Chinese government has paid special attention to the development of SMEs, which are playing an increasingly important role in the nation's economic growth and providing millions of jobs, He said.
"Organizing the CISMEF in Guangzhou is one of the Chinese government's efforts to support the development of SMEs," He said.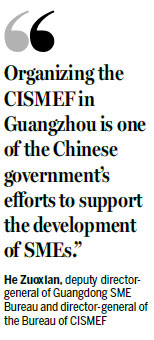 He promised to build the event into a professional trade show for SMEs to demonstrate their products, technologies and strengths and to seek cooperation.
"The organizers and related organizations will provide even better services to help achieve this goal during this year's fair," He said.
The event is now the largest international fair on the Chinese mainland to provide "a platform for display, trade, exchange and cooperation" for Chinese and overseas SMEs, according to He.
To help SMEs to strengthen their innovation capability and enhance cooperation in technology, there will be a number of activities relating to these topics, including business leader summits, forums and seminars, and trade talks.
Tang Kam Tim, an official from the Chinese Manufacturers' Association of Hong Kong, said many SMEs from Hong Kong are prepared to increase cooperation with the mainland counterparts through CISMEF.
"Hong Kong companies will bring their latest technologies, quality products and famous brands to the fair, with an aim to seek partners on the mainland," Tang said.
Wang Huajun, deputy general manager of the SME department at the Guangdong branch of the Bank of China, said that his bank will be on show during the fair to publicize its policies and initiatives to support SMEs."
The preparation work for the 13th CISMEF has basically been completed, with all the exhibition booths booked by SMEs from home and abroad," He said.
The 13th CISMEF will take place in Guangzhou's Poly World Trade Expo Center and Guangzhou International Sourcing Center in three phases.
The first phase will be held at Poly World Trade Expo Center from October 10 to 13. The second and third will take place at Guangzhou International Sourcing Center between October 16 and 20 and from October 24 to 27. More than 3,000 SMEs from China and over 30 countries and regions around the world will participate in the event this year.
The fair was first held in Guangzhou in 2004.
Chinese SMEs signed about 30 billion yuan ($4.6 billion) worth of deals with their foreign counterparts during previous fairs.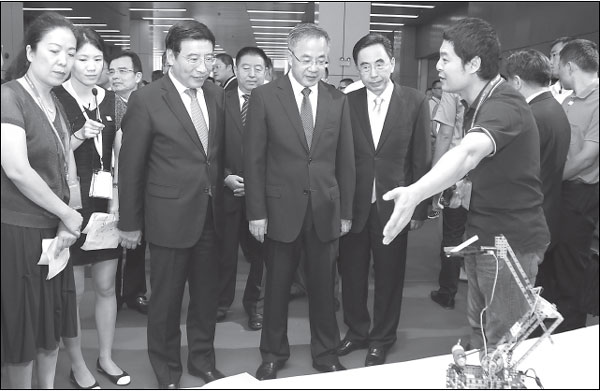 Hu Chunhua (third from right), Party chief of Guangdong province, and Zhu Xiaodan (second from right), governor of Guangdong, visit the 12th CISMEF last year.Provided To China Daily
(China Daily 09/22/2016 page4)