Region strengthens education cooperation
The educational authority in the Guangxi Zhuang autonomous region has held diverse promotional activities this year to strengthen cooperation with members of the Association of Southeast Asian Nations, as 2016 is a year of China-ASEAN educational exchanges.
This year also marks the 25th anniversary of the establishment of friendly dialogue between China and ASEAN.
In August, a group of government officials, heads of universities, experts and scholars from China and the 10 ASEAN member countries gathered in Guiyang to discuss educational development during the period of the 13th Five-Year Plan (2016-20).
In addition, from July 15 to 22, the Guangxi-China Education Fair was held in Vietnam and Cambodia, attracting a total of nearly 4,000 high school students and parents from the two countries. Twenty-four universities and colleges from Guangxi participated in the event.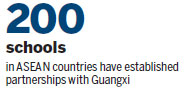 "Accelerating the development of education is a task that is of equal importance to both China and Cambodia, as the two are both developing countries," Bu Jianguo, Chinese Ambassador to Cambodia, told Chinese media.
Guangxi now has four universities and colleges that offer the Cambodian language as a major selective. In 2015, some 220 Cambodian students studied in the region.
From 2004, the annual educational fair has welcomed more than 20 Guangxi universities and colleges to each session. The event has taken place in a number of Southeast Asian nations including Vietnam, Thailand and Indonesia.
Due to its geographical proximity, cultural similarities and highquality education system, Guangxi has established itself as one of the leading choices for ASEAN students looking to participate in educational exchange programs. From 2011 to 2015, more than 37,000 ASEAN students came to study in Guangxi.
"Guangxi has made a tremendous contribution to improving educational exchanges between China and ASEAN countries, especially with regard to the education of ASEAN students," said Yang Xiuping, secretary-general of the ASEAN-China Center.
The concerted efforts made by the region over a number of years have helped it to innovate an international educational cooperation approach featuring local characteristics.
To date, Guangxi has established partnerships with almost 200 schools in ASEAN countries and set up seven Confucius Institutes.
It also created a government scholarship for ASEAN students during the 12th Five-Year Plan. More than 1,000 students received scholarships from a fund of 72 million yuan ($10.78 million).
The region is also becoming a hub for international technicians and skilled personnel, thanks to the support of four local State-level China-ASEAN personnel training centers that cover the fields of business exhibition, the arts, Chinese language and finance and taxation.
The Ministry of Agriculture also established an ASEAN-oriented training center in Guangxi in 2012. To date, the center has provided 68 training sessions to 1,300 participants from Laos, Myanmar and Vietnam.
In recent years, Guangxi-ASEAN vocational education programs have made remarkable achievements.
At the beginning of 2015, Liuzhou City Vocational College, Shanghai General Motors Wuling Automobile Co and West Java provincial educational bureau reached a trilateral agreement to jointly establish automotive technology training institutes in Liuzhou and Indonesia.
SMKN1 Indonesia, which is a vocational training center for office administration and secretarial training, is one institute that is involved in the initiative.
In 2015, 13 students from SMKN1 were sent to Liuzhou to learn about automotive technologies, and the figure will increase to 55 this year. On Jan 12, a research center of China-ASEAN vocational and technical education and training was inaugurated in Guangxi Teachers Education University.
The local government considers the center an important driving force for the construction of the Belt and Road Initiative.
The university, which has a history of 84 years, was among the first batch of universities in the region to carry out educational cooperation and exchanges with educational institutions in ASEAN countries. It has reached cooperation agreements with 110 ASEAN universities and educational institutions.
Among its current 1,500 overseas students, nearly 80 percent are from ASEAN countries such as Vietnam, Thailand, Indonesia, Malaysia and Laos.
haonan@chinadaily.com.cn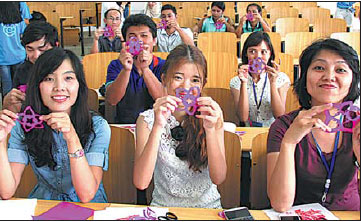 Students from ASEAN countries take part in a paper-cutting activity in Guangxi.Huo Yan / China Daily
(China Daily 09/12/2016 page12)
Today's Top News
Editor's picks
Most Viewed