Volkswagen backs removal of stake cap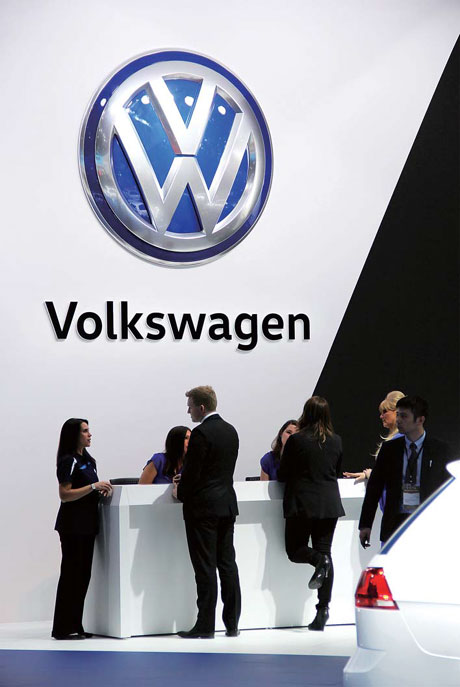 Volkswagen's stand at the Detroit auto show in January. Li Fusheng / China Daily
The German giant's China head says the country is where the cars of the future are being developed
Volkswagen AG has said it would welcome the earliest possible removal by China of caps on the stakes foreign automakers can have in joint ventures in the country.
The comments made on Aug 2 by Volkswagen AG's CEO of China operations Jochem Heizmann mean that the German company is the first major international carmaker to voice its opinion in the latest wave of debate on the issue that started in June.
China promulgated an industry policy in 1994, demanding that all foreign automakers and spare-parts producers that want to localize production in China must establish joint ventures, in which their stake must not exceed 50 percent.
"We appreciate every step to liberalize Chinese regulations and the Chinese economy in a way that meets international standards," Heizmann said.
He said removing the cap is the only way to ensure companies have freedom to decide how to proceed and where and how to invest, "as it is the standard all over the world". He said Volkswagen would appreciate China's earliest possible efforts.
In June, Xu Shaoshi, minister of the National Reform and Development Commission, said China was looking into lifting the stake cap, and within a month the State Council, China's cabinet, introduced a pilot move to allow auto parts producers in several free trade zones to localize production without establishing joint ventures.
But soon the Chinese Association of Automobile Manufacturers and several major State-owned carmakers, including Dongfeng, BAIC and FAW, one of Volkswagen's partners, voiced their opposition, arguing that Chinese brands would lose their last line of defense in the market.

Volkswagen, however, said it was satisfied with what it has achieved in the past three decades and it would be impossible to continue the success story without its two partners' understanding of the local market.
Volkswagen was one of the first international automakers to set up operations in China, and the country has become Volkswagen's largest market, generating 40 percent of the group's global sales.
In the first half of this year, the German automaker delivered 1.86 million cars with its two joint ventures, FAW Volkswagen and SAIC Volkswagen, on the Chinese mainland and in Hong Kong. That figure was a 6.8 percent increase year-on-year.
Four of the top 10 best-selling passenger cars in China are from the Volkswagen brand - the Lavida, Jetta, Sagitar and Santana.
The automaker wanted to increase its stake in the 40:60 joint venture with FAW to 49:51, but in November the company announced that that deal would be postponed due to financial reasons.
Volkswagen had set aside $18 billion to settle the worldwide emissions scandal. Statistics show it lost 5.5 billion euros ($6.16 billion) last year, compared with a profit of 2.5 billion euros in 2014.
Matthias Muller, who took the helm as CEO of Volkswagen AG after the scandal forced Martin Winterkorn to step down, is working hard to revamp the carmaker and restore its reputation.
Muller's plan, called Strategy 2025, was released in June and the China management team has been reshuffled to align with the structure at the headquarters at Wolfsburg.
Stephan Wollenstein, a senior sales executive at FAW Volkswagen, has been named CEO of Volkswagen China's passenger cars brand to promote its sales and marketing in the country. He joined Volkswagen in 1995 and has worked at both of its joint ventures in China.
"To be firmly connected to China means to put customer needs and demands first, and Wollenstein will ensure we are doing precisely that," said Heizmann.
The new appointment will also ease the burden on Heizmann and enable him to focus more on new sources of revenue, including new energy vehicles, connectivity, economy cars and autonomous driving, all of which are pillars in Muller's strategy to turn the group into a mobility provider.
That means China is becoming even more important to Volkswagen as the transition to new mobility and new energy vehicles is developing much quicker in the country than anywhere else. It is probably because of this that Heizmann's tenure has just been extended by two years to 2019.
"For me it is the start of a new phase, it is a transformative process," he said. "Of course I am happy to be able to influence and steer that (transition) for some more years, and I can only say that no other area is as interesting, challenging and demanding as China," said Heizmann.
lifusheng@chinadaily.com.cn
(China Daily 08/08/2016 page19)
Today's Top News
Editor's picks
Most Viewed