Legalizing of car-hailing services will hit sales
Decline in demand will mainly be in first- and second- tier cities initially
Car-hailing might hinder growth of the new purchase market in China, as the services have been granted legal status while local governments in major cities are restricting the registration and the use of vehicles.
With the introduction of the new regulation on car-hailing services, residents in major cities are being encouraged to use mobility services rather than make car purchases.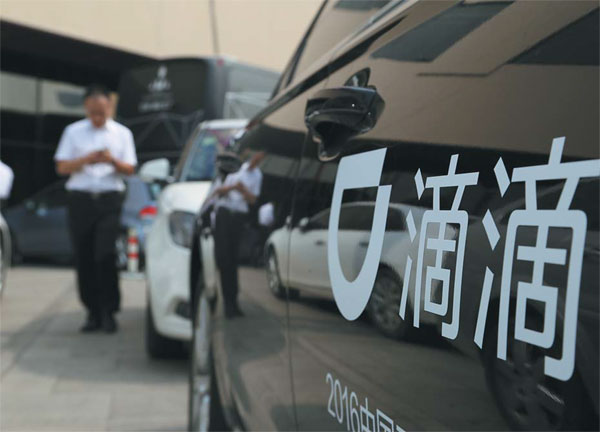 A pedestrian passes by a chauffeured car of Didi Chuxing, the dominant ride-hailing service provider in China. Wu Changqing / For China Daily
"The online car-hailing services better meet customers' needs, and will develop to be safer and more convenient under the government's official regulation. Car ownership, on the other hand, is being discouraged by means of restrictions on car purchases and use," said Charley Xu, a principal at Boston Consulting Group.
The US consulting company predicts the Chinese auto market will shrink 2 percent each year over the next decade, based on a 5 percent decline in individual purchases for private ownership and a car-hailing fleet replacement rate of 3 percent.
Data from the China Association of Automobile Manufacturers show the sales volume in China totaled 24.6 million last year, and a 2 percent reduction in volume in the world's largest auto market would be a reduction larger than the combined Swiss and Russian markets in 2015.
Nielson Company Greater China says that chauffeured car-hailing and ride-sharing services save costs for passengers, weakening potential buyers' willingness to purchase their own cars.
Car-hailing services enable customers to travel by car without owning a vehicle, and so users bypass the upfront costs of a car purchase, and the costs that come with ownership, including the cost of a license plate in the major Chinese cities that restrict car purchases. Besides, customers don't have to worry about the one-day-a-week ban on car use based on plate numbers in urban areas.
Xiong Guangan, the father of two children in Beijing, said he and his wife dropped the chance to buy a second private car and let their car plate registration quota expire.
"I commute to my work in a chauffeured car on weekdays, usually one of Uber's, and our car is left in the parking lot. We only use it for family outings to visit places in the suburbs."
Declining buyers' demand
Nielson's February report summarized that 67.8 percent of respondents who do not own cars "feel there's no need for a private car". A total of 32.4 percent of Chinese private car owners surveyed said they wouldn't buy another car and 9.7 percent were considering selling their cars, according to the New York headquartered research company.
Xu at Boston Consulting Group said he expects Chinese individual customers' demand to decline 5 percentage points each year, as the younger generation in large Chinese cities have less interest in owning a private car, and customers will find various ways, including chauffeured services, ride-sharing and renting to meet their mobility demands.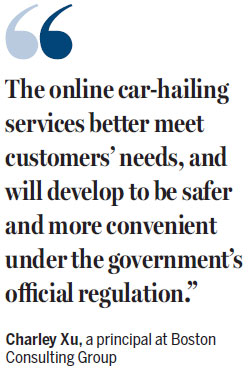 "The aim of local governments is to control the number of vehicles on the streets. Even if a congestion charge replaces the local restrictions on car purchase and use, the result will be similar," he said.
Xu noted that the newly released regulation on car-hailing services will encourage more drivers to sign up with the car-hailing service companies, and so the fleets will grow. He said, users will enjoy more availability and flexibility and have improved experiences, so they will use the service more frequently than before.
The State Council, China's Cabinet, released a regulation on the car-hailing services that is set to take effect on Nov 1.
China is the world's largest online car-hailing market, and Liu Xiaoming, vice-minister of transportation, expects the regulation to further boost car-hailing services in the long term.
Liu said the new rules will support the development of online car-booking platforms and encourage private cars owners to provide ride-sharing services to promote the sharing economy, ease congestion in cities and reduce air pollution.
Fleet procurement
Deputy Secretary-General of CAAM Shi Jianhua said: "The regulatory boost for the online car-hailing services may generate a large number of car replacements."
The vehicles registered for online car-hailing services are required by the new regulation to be removed from service after 8 years, in a bid to maintain service levels.
And Shi pointed out that "it is also possible there will be greater demand for vehicles tailored to better satisfy the specific needs of car-hailing drivers and customers".
The drivers and passengers in chauffeured and ride-sharing cars seldom use a CD player, for example, but WiFi is usually deemed a necessity.
Xu agreed that the online service providers would buy more vehicles to expand and renew their fleets.
He foresees the car fleet demand will add 3 percentage points annual growth to the nation's new car purchase volume.
Boston Consulting Group also expects many customers, especially residents in second-tier cities and smaller townships and counties, will not forgo car ownership at the same rate as residents in the big cities in the near future, as the majority still see private vehicles as a symbol of social status.
haoyan@chinadaily.com.cn
(China Daily 08/08/2016 page18)
Today's Top News
Editor's picks
Most Viewed