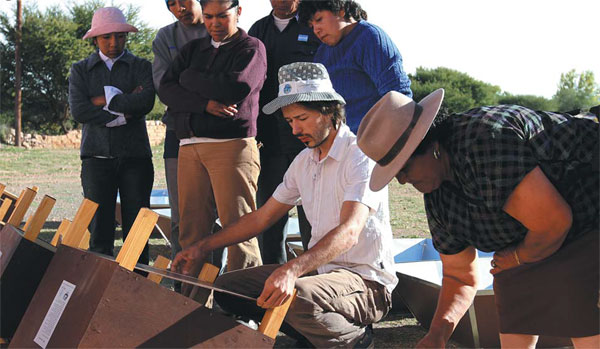 Solar Inti is helping to improve the quality of life for those families living in vulnerable and isolated areas. Provided to China Daily
Editor's note: Frenchman Pierre-Yves Herrout had no idea that a planned sabbatical year would change his life forever. Following his instincts, he ended up in Argentina, a country he had not planned to visit, and ended up dedicating himself to helping poor and vulnerable people by setting up a social organization that, to date, has enabled more than 30,000 families in Jujuy and Salta to cook using solar energy. Teresa Zolezzi, a freelancer for Impact Journalism Day, gives us insight into the man's invention.
Motivated by a desire to travel the world and meet new people, Pierre-Yves Herrout left his homeland of France on what he thought would be a sabbatical year.
With map in hand and following his instincts, he marked out countries that would form part of his adventure: Russia, Mongolia, South Korea, China, Japan, Vietnam, Cambodia, Thailand, New Zealand and Chile.
Argentina did not feature on the list, but a change of plans led him to Salta, a city in the Lerma Valley in the mountainous northwest of that country, where he settled 12 years ago, started a family and set up a social organization called Solar Inti, dedicated to the construction of environmentally friendly solar ovens for vulnerable communities, poor families, schools and children's soup kitchens.
"I left my job in France, where I was doing well, and sold my car, my freezer, my bed, and my clothes," said Herrout, a 40-year-old agricultural scientist whose childhood was linked to the countryside; fishing and spending time with his family.
He continued, "I took the gamble because I have always thought that the more different people and their cultures are, the more interesting they turn out to be.
"When I was young I put down solid roots, and that helped me later because when you travel you have to have those strong roots in order not to get lost and to find a deep meaning in what you are doing."
When he was traveling through Chile, he felt a desire to visit Argentina and learn to dance the Tango. "In Salta I really liked the way I was welcomed and I enrolled in choir and dancing lessons straight away," he said.
"Because I learned that if you only see the typical tourist places when you travel, you don't see anything. But if you start to join in with activities which are typical of the place itself, you really discover it."
In the city, he came across the Siwok Foundation, which focuses on developing indigenous communities.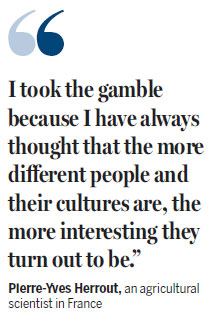 They told him that they were running a project to reassess the local culture, and Pierre wanted to help.
Josefina, a Saltea who Herrout would later marry and start a family with, also joined the program.
"We got to go into people's homes and see how they cooked, the toxic smoke they inhaled (each meal made with the basic stoves they used was equivalent to smoking 40 cigarettes), the amount of soot generated and how they carried 30 kg of wood on their backs every day," he recalled.
Herrout got in touch with his old physics teacher and started to look for funding to build the first 10 solar ovens for an indigenous Colla community in the Salinas Grandes of Jujuy, also in Argentina's northwest.
Instead of giving them the ovens, he was given materials. Then he organized participative workshops where the indigenous population were taught to make rectangular ovens from aluminium, glass and wood.
The pilot project was a success, and when the training was finished, 80 more families with the same need came forward, giving rise to the social organization Solar Inti, which in the last eight years has built more than 3,000 solar ovens in Salta and Jujuy.
They have also developed new sustainable models, such as fuel-efficient wood-burning stoves, ovens, solar dryers and showers.
It has reduced wood consumption by 80 to 90 percent and contributed to a reduction in lung diseases linked to smoke inhalation from burning wood.
It has also reduced the impact on the environment through the reduction in the number of trees and shrubs being cut down, and improved household finances through the sale of food cooked with these ovens.
"We have noticed how happy the people are when they see how their living circumstances have changed. The community has been strengthened thanks to the workshops and they feel able to take on other projects. That is empowerment," Herrout said.
As well as the technical workshop for building ecological ovens, Solar Inti offers training for maintenance, cooking and diet, saving fuel, impact on health and the environment, applications for regional gastronomy and micro-business development.
Solar motor
Solar panel installations in poor and remote communities are often abandoned after only a few months of use due to breakdowns and a lack of available spare parts. However, with Saurea, an autonomous and durable solar-powered motor, which requires no maintenance and can directly convert solar energy into kinetic energy, such wastefulness could become a thing of the past.
Saurea's 76-year-old inventor, Alain Coty, never imagined his motor would be used in the development sector.
In 2008 Coty completed the first prototype of Saurea. Though similar motors already existed, they were far less powerful. Saurea's unique durability and power come from the fact that the motor is wired to an exterior solar panel, which is constantly exposed to light, providing electricity to the motor's electromagnetic coils.
As a result of this innovation, Saurea, unlike other solar-powered motors, has no parts that are susceptible to wear, giving the motor the same 25-30-year lifespan as its solar panels.
Since the initial prototype, Saurea's potential has inspired others to join Coty's team and aid in its development. Nadge Payet-Tisset, who has years of experience exporting renewable energy installations to disadvantaged communities in Africa, immediately noticed the potential of Coty's motor.
(China Daily 06/25/2016 page11)