Tesla says it needs 'critical mass' for a China factory
Despite the rising number of Tesla 3 preorders in China, making the country the carmaker's biggest market outside the United States, the electric car titan still needs a convincing scale before it makes a decision on adding a production site, according to Chief Technical Officer and Co-founder JB Straubel.
Adding a factory only makes sense after the market reaches a "critical mass", said Straubel on Thursday, damping speculation that a new site would shortly be established in China.
Straubel made his comments while attending the International Transport Forum 2016 summit in Leipzig, Germany.
Jon McNeill, Tesla's president of global sales, raised speculation about a new factory in China after he talked about the country as a potential candidate for a new factory to meet demand for the automaker's Model 3 in a recent interview.
Tesla launched its first mass-market car on April 1 and the model received the second-most preorders from China, according to Ren Yuxiang, Tesla's head for Asia Pacific. Ren didn't disclose the specific figures.
China was Tesla's second largest market last year despite a slump in revenue.
Second manufacturer of EVs gets green light
Changjiang Auto's electric vehicle arm has received official approval as China's second manufacturer of fully electric cars.
The Hangzhou Changjiang Passenger Car project, which plans to produce 50,000 fully electric cars, received approval from the National Development and Reform Commission on Wednesday.
Changjiang Auto constructed its production base in Hangzhou, the capital of Zhejiang province, following the 4.0 German industry standard, according to the company. The plant's photovoltaic system has a capacity of up to 7,000 kW, and is capable of generating roughly one-quarter of the energy needed by the plant.
The plant received investment of 5.1 billion yuan ($780 million) in 2013 and is expected to become the largest producer of fully electric cars.
The company announced in April that in order to become a competitive Chinese EV brand, it would stick to forward design and engineering principles to master its core intellectual property.
Its first passenger vehicle is set to be a sub-compact crossover capable of running 200 km on one charge. The car is due to be launched on the market in July, according to local media reports.
Volvo unveils premium small car strategy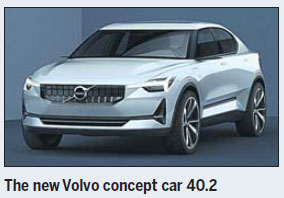 Volvo Cars launched its global small car strategy on Wednesday with the unveiling of two concept cars based on the Swedish brand's new Compact Modular Architecture.
The new concept cars will be the first to be built around the CMA.
They will include a fully electric vehicle and twin engine plug-in hybrid variants, which are in line with the company's commitment to the electrification of its entire portfolio.
The newly revealed 40 series concepts demonstrate for the first time Volvo's plans to expand into the global market of premium small cars. It plans to build vehicles that combine connectivity, electrification and autonomous driving technologies.
Volvo hopes to sell up to 1 million electrified cars by 2025 globally. The ambitious small car strategy is essential to Volvo's global operational and financial transformation. The company is implementing a revitalization plan that will reposition the brand to compete with international premium rivals within the next four years.
Motoring
(China Daily 05/23/2016 page19)