$831 million project will also focus on unmanned aerial vehicles, space-based info
Northeast China's Jilin province has begun building an information industry park in the high-tech zone of provincial capital Changchun to host enterprises conducting research and development of satellites, unmanned aerial vehicles and space-based information products.
Upon its completion in 2021, the park is expected to produce 30 satellites and 200 unmanned aerial vehicles a year at an annual production value of about 4 billion yuan ($611 million).
The project will cover more than 200,000 square meters and cost 5.4 billion yuan. According to the provincial government, enterprises in the industry park will mainly focus on developing key industrial and technological projects such as the Jilin No 1 small satellites, promote the development of upstream industries - which process raw materials into an intermediary product - such as machinery manufacturing, optical manufacturing and photoelectric sensor technology, and expand downstream industries, which convert the intermediary product into a finished one.
The industry park is expected to become an industrial cluster centered on satellite R&D and manufacturing and a service platform for remote sensing information.
Changguang Satellite Technology Co, the developer, manufacturer and operator of the Jilin No 1 commercial remote sensing satellite that was successfully launched on Oct 7 last year, will be a main player in the park.
The company was established on December 2014 in Changchun and is China's first commercial remote sensing satellite company. Wang Dong, assistant general manager of the company, said it conducts satellite R&D and provides remote sensing information services.
Wang also said the company mainly produces three kinds of satellites: scanning, video and verification. It will launch eight to 10 satellites this year to form a satellite network and have the ability to update data on any location in the world every three to four hours.
By 2030, the company will have 138 satellites in orbit and the intervals for updating information will be shortened to less than 10 minutes.
Xuan Ming, the company president, said the industry park will boost the merging of satellite and relevant industries in the province.
liumingtai@chinadaily.com.cn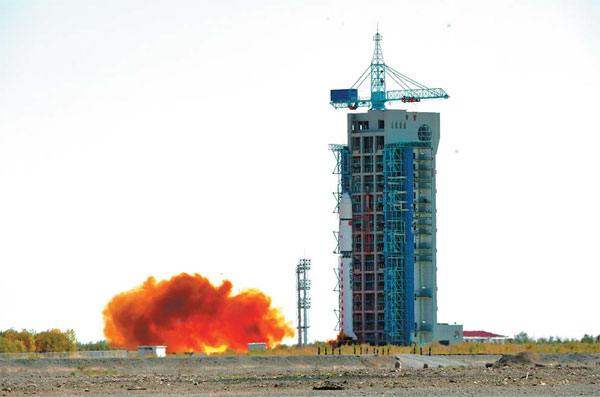 Jilin No 1 commercial remote sensing satellite, manufactured in Jilin, is successfully launched on Oct 7 last year. Photos Provided to China Daily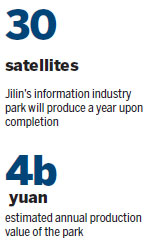 (China Daily 05/20/2016 page10)