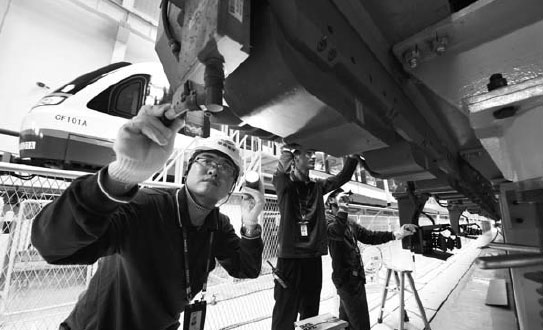 Engineers check a maglev train before it starts trial operation on May 6. Provided to China Daily
After more than a decade of efforts, CRRC Zhuzhou Electric Co Ltd has developed world-leading linear electric motors and suspension electromagnet systems to power China's first home-designed low-speed maglev rail line in Changsha, which started trial operation on May 6.
The company started its research on linear electric motors and electromagnets in 2003. In 2011, it cooperated with CRRC Zhuzhou Locomotive Co Ltd to develop motors and electromagnet systems for the latter's 1.58-km experimental line.
The prototype train on the line, called "Zhuifengzhe" (Wind Pursuer), has run about 30,000 km without incident, accumulating a large amount of technical data for later commercial use.
When the Changsha maglev project was launched in 2014, the company optimized its linear electric motors and suspension electromagnet systems to further improve reliability and stability in all weather conditions.
Zhang Lei, an executive in the research and development center of CRRC Zhuzhou Electric responsible for the maglev project, said that both the motor and suspension electromagnet system require light weight and strong adaptability to the environment to resist wind, sand, rain, snow and ultraviolet rays.
She said the company has made innovations in the motor's driving and protection methods, as well as the insulation structure and processing. It has filed 18 patent applications related to those techniques, including four for invention patents.
The company has also applied to draft an industry standard for maglev rail systems.
CRRC Zhuzhou Electric has developed motors with maximum thrust of 3.3 kN to allow the maglev train to carry more passengers, while in Japan, the low-speed maglev rail system uses 2.7-kN motors, Zhang said.
She also said the suspension electromagnet used on the Changsha line can provide buoyant force of up to 33 kN, nearly 20 percent higher than its Japanese peer.
Thanks to the special insulation techniques, the line is able to work normally even if the electromagnet is under water for 24 hours.
Zhang said the research team has considered the balance between the thrust and buoyant force to make sure the train runs smoothly.
Compared with the high-speed Shanghai maglev line, using technologies introduced from Germany, the Changsha line features a higher performance-price ratio, higher safety, lower noise and stronger climbing capability, said industry experts.
"The success of the Changsha maglev project has filled a blank in the industrialization of low-speed maglev rail systems," said Liu Youmei, chief of the expert panel of CRRC Zhuzhou Locomotive.
The line, linking the high-speed railroad station with the airport of Changsha, will also support provincial government efforts to build a national transportation hub, said Zhou Xiaoming, general manager of Hunan Maglev Co, operator of the line.
Contact the writers through wenxinzheng@chinadaily.com.cn
(China Daily 05/18/2016 page17)