Licang boosts tourism with focus on flowers
Licang, a district in Qingdao that was formerly an industrial base and center of commerce, is boosting its tourism industry with a focus on the Qingdao Horticultural Exposition.
"Licang is teeming with elaborately built parks and is rich in natural resources for locals and tourists to enjoy," said Bi Zhijian, director of Licang Bureau of Tourism.
It has the largest plum park in north China. The park boasts 136 varieties of plum flowers and more than 10,000 plum trees.
It also hosts a plum festival in March and April that includes numerous activities such as a photography competition, a calligraphy and Chinese painting exhibition, a bonsai exhibition, interactive games and a traditional drama and dance.
There is also a separate park with 15 varieties of bamboo spread across 10,000 square meters. The park is home to a 1,600-year-old ginkgo tree and several clif inscriptions.
Bijiashangliu, a village in Licang, has been recognized as one of the "Most Beautiful Villages in China" in 2013 and 2014.
The district has also six so-called mountain parks, including Hushan, Loushan, Yandunshan, Niumaoshan, that are covered in forests.
"Strolling along the Licun River, visitors can also enjoy a feast of flowering beds, green trees and flowing waters," Bi added.
The venue for the 2014 Qingdao International Horticultural Expo is consistently preserved and maintained and is recognized as a national 4-A level tourist attraction.
In March, the district hosted the Kite Festival at the Horticulture Exhibition Park in partnership with Weifang, another city in Shandong province and where the original kite festival in China was held. The event is expected to integrate kite culture, tourism, investment promotion and international communications.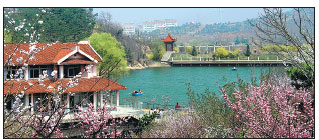 Licang district in Qingdao has the largest plum park in north China.
(China Daily 04/29/2016 page10)
Today's Top News
Editor's picks
Most Viewed