A sustainable urban transport solution is an attitude to living
With spring upon us, smart has sprung into action at this year's Auto China in Beijing, sweeping the show with a brilliant lineup powered by sunny optimism and creative zest.
This year marks smart's seven-year anniversary in China, and the brand's upbeat personality, stylish design and remarkable practicality have enabled smart to win over the hearts of 80,000 fans who are looking to embrace all that urban life affords while showcasing their vibrant personalities.
Taking the local market by storm, smart achieved record sales in China this March.
"Last month was a very big month for smart in China," said Annette Winkler, global head of smart. "We sold 2,091 units in March, and with smart vehicles being rolled out locally in a greater variety of powertrains, we are strongly convinced that smart's success story will continue in China."
The compact car is the smart choice for those who love life, are forward-thinking, and walk their own path. These optimistic and enterprising individuals are not bound by age or gender; rather, they are the young-at-heart pioneers who are setting out to create a new urban joy.
"Our customers are typically well educated, very premium people who are attitude-driven and value-driven," said Winkler. "Our world is becoming more and more global, and our customers are defined more by their attitude than their age or where they are from. It's about openness, and wanting to contribute to the world and the environment."

These urban trendsetters are looking for an easier and more pleasant way to travel throughout the city, and smart offers a sustainable urban transport solution which is both stylish and practical. Over the last several years in China, smart's customer base has become younger, and these aspiring youth are the ones energizing and shaping the heart of China's urban hotspots.
And it's these urban hotspots which the smart forfour was specifically designed for.
Developed in accordance with smart's core design principles, the forfour offers the same compact frame and unbeatable turning circle as other smart models. But while the smart forfour shares the same characteristics and advantages as the fortwo, it offers more space and greater loading capacity to meet the needs of urban customers looking for something more than a two-seater vehicle.
In terms of technology, the smart forfour sets new standards with a rear view camera and rear parking assistance, plus Crosswind Assist and a pioneering twinamic 6-speed DCT. Inside, the media system includes a smart Audio System with cradle and cross-connect app, a JBL Sound System, and a 7-inch touchscreen for navigation and connectivity.
What sets the smart forfour apart the most, though, is its added interior space. With the seat bench folded down the luggage compartment has an astounding cargo volume of 975 liters. And thanks to the folding passenger seat backrest occupants can even store longer items of up to 2.2 meters in length, with the 85-degree rear doors allowing for easy access.
But even with the increased space, the forfour still maintains smart's unmatched agility. With its rear-mounted engine, this exceedingly compact four-seater car is just 3.49 meters long, making it easy to park in even the smallest of parking spaces. It also features the smallest turning circle in its class - just 8.65m.
The smart forfour is designed to deliver a new urban joy to urban trendsetters and young families, and that is why smart has chosen the actor and singer-songwriter Kris Wu as the official smart brand ambassador in China.
Wu embodies the latest interpretation of smart's brand spirit, and on the night of the "Mercedes me Sanlitun" opening has introduced the limited edition "Kris Wu Edition" smart.
Built upon the All New smart forfour 66-kW prime edition and encased in a distinctive amber yellow body panel with grey tridion safety cell, this exclusive model expresses Kris Wu's unique character and distinctive fashion sense, and will be available to purchase through Mercedes-Benz Tmall platform starting from 4 pm on Tuesday onwards.
Furthermore, urban trendsetters keen on driving a high-end smart modeled after themselves need look no further than the All New smart BRABUS series, which is also making an appearance at this year's Auto China.
What truly brings the high-performance BRABUS to life is its creative, exclusive customization solutions, which allow customers to design a tailor-made BRABUS based on their personalities and personal preferences. Body color combinations number in the thousands, and both the exterior equipment line and the BRABUS Sports package lend smart an even more individualized and sportier exterior and interior design.
Similarly, the All New smart fortwo cabrio caters to a broad spectrum of personalities and driving conditions with its overhead fabric soft top, which can be conveniently opened at the simple press of a button, providing occupants with a panoramic view of the surrounding landscape.
Occupants can easily adjust how the top opens in order to suit different weather conditions, moods and personal preferences, and with features such as Crosswind Assist, Lane Keeping Assist, and more, which are typical of higher-category vehicles, the All New smart fortwo cabrio offers a fresh take on urban joy.
"Since its inception, smart has been defined by its active and optimistic attitude toward life. It has driven urban pioneers to embrace life, overcome challenges and innovate enthusiastically while enjoying urban life to the fullest," said Winkler. "Our latest offerings highlight our continued commitment to China while further satisfying smart fans' diverse mobility needs and requirements, enhancing their ability to embark on a broader range of family outings."
smart premiere showroom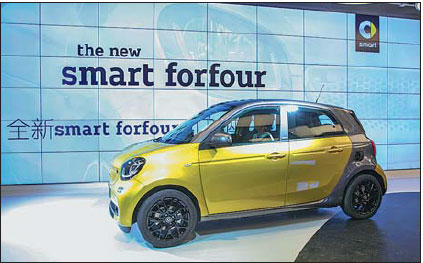 The smart forfour off ers more space and greater loading capacity to meet the needs of urban customers looking for something more than a two-seater vehicle.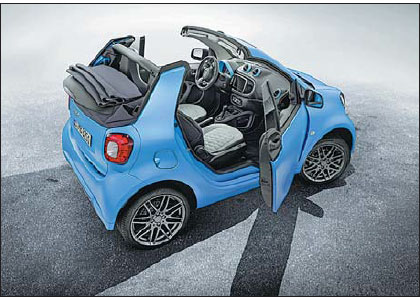 What truly brings the high-performance BRABUS to life is its creative and exclusive customization solutions, which allow customers to design a tailormade BRABUS based on their personalities and personal preferences.
duxiaoying1@chinadaily.com.cn
(China Daily 04/25/2016 page16)