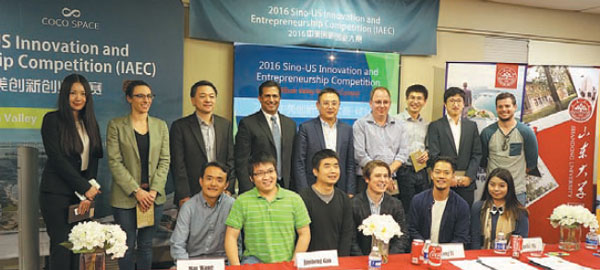 Participants in the Silicon Valley round of the 2016 Sino-US Innovation and Entrepreneurship Competition in February hope to make it to the finals in Shandong province. Provided to China Daily
Ninety teams of students from Chinese and American universities and research institutions will participate in a heated competition in Qingdao, Shandong province, from Friday to Sunday.
"The event, the final contest after strict and fierce selections and rounds of preliminary contests in China and the United States, aims to attract leading startup and innovation projects from domestic and US universities and research organs to the eastern province of Shandong, help them settle there and accelerate exchanges among Sino-US research, human resources and social capital," said Zhang Rong, president of Shandong University, the host of the event.
The event will focus on projects in the sectors of healthcare, life sciences, information technology, the Internet and engineering technology.
Since the end of 2015, a series of contests had been held in the United States, including on-site preliminary contests in Washington, Houston, Chicago and Silicon Valley and online contests.
In China, online and regional on-site contests were held in Ji'nan, Qingdao and Shanghai.
The preliminary contests in the US were considered "super fierce". They attracted more than 120 projects and 41 teams were chosen to take part in a road show.
After the competitions, 16 teams with high-quality proposals were chosen for the finals.
During the upcoming events, a Sino-US business maker forum will be held in Qingdao.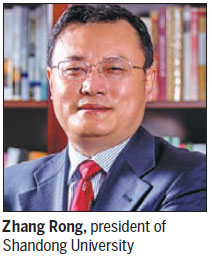 President of Rice University David Leebron, Chicago Innovation Exchange Center Executive Director John Flavin, Silicon Valley-based Tech Reactor Chief Innovation Officer Johann H. Gutierrez, Haier Group Rotating Chairman Zhou Yunjie, Trend Micro Founder and former director of Intel Research Center in China Wu Gansha, Director of Information Science and Engineering School of SDU Huang Weiping and experts on startups will share their insights during the events.
Zhang said many project initiators during the preliminary contests showed a strong interest in joining the Sino-US science and technological innovation park jointly founded by SDU and the Qingdao city government.
"After the final event, the winning teams are expected to be supported by the park with awards, offices and preferential policies to begin their projects there," Zhang said.
"Via the competitions, we expect to build a solid cooperation foundation with the technological transfer centers of many leading US universities and research institutes," Zhang said.
He also expects to help the student innovators build a foothold for their projects in Shandong, in addition to continuing to attract more projects and push joint research and development between China and its US counterparts.
"Innovation and startups have become a 'centripetal force' in Chinese society and are gradually evolving into the pillar of emerging industries. As the major training base for human resources, universities are playing a pivotal role in building innovation culture and innovation personnel," he said, "The task is arduous and the responsibility is heavy."
As a leading university administrated by the Ministry of Education, SDU has devoted great emphasis to and foster student enthusiasm on startups and innovation. It has included courses on innovation and startup into its curriculum.
"The courses are a strong supplement to the current curriculum and indispensable parts of the whole academic education system here. They not only serve the few who are ambitious to start their own businesses and keenly interested in innovation, but are also open for every student here. ... We hope everyone could enjoy opportunities to study these subjects," he said.
Zhang said the university is not aiming to build 'a factory' or 'a company' on campus, or pushing all students to initiate businesses or become entrepreneurs.
"We are aiming to foster their mindsets, outlook and capabilities in innovations and startups and build a conducive atmosphere for these on campus."
To this end, the SDU is forming what it calls a "business maker culture," aiming to root the concept deep in campus life by optimizing the institution's curriculum and stressing real practices.
The academic credit administration has included results from the startup and innovation classes and students' performances.
Resources to share classes of campus include opening the startup and innovation classes to the public and online courses.
It has started a "know about business" startup basic course for students. About 30 percent of undergraduates are expected to take the courses.
SDU will include results from the classes in student files, evaluating their performance in the field.
Top students with leading performance can gain more credits.
Emphasizing training
In recent years, the university has injected hefty capital into its innovation education and allocated a special fund for related projects and research. It has offered special training camps for students with strong innovation abilities and given special certificates for quality performances in building and operating virtual companies. To further encourage the students, SDU set up a maker's space at the university - a teahouse named Phoenix Tea. It has become the first "online to offline" startup service venue of all universities in the province.
The teahouse is part of the university's efforts to reflect the nation's Internet Plus strategy and the government call to offer "spaces for makers".
In 2015, more than 100 events including a career leader forum, startup English corner and university startup salons have been held.
Some top-quality resources and projects from Beijing, Shanghai and Guangzhou have gathered at the makers space. Last year, a new school on innovation and startups was set up at the university.
The new school is expected to benefit from the advantages of the university's branch located at Qilu Software Park, which is a cluster of small- and medium-sized enterprises and an incubation service park has been built there.
A "maker's street", which is a street mainly serving those maker's demands, a center and an incubator have also been built.
SDU built some centers for practice outside the campus.
The Sino-US science and technological innovation park jointly founded by SDU and the Qingdao city government is a prime example.
It is split in two areas - an international industrial park at the Qingdao High-tech Industrial Development Zone and an international research park that is under construction at a Qingdao campus zone attached to SDU. An international startup fund is also planned for the park.
SDU and the Qingdao High-tech Industrial Development Zone reached an agreement in October 2015 to build the international industrial park. The park will focus on biology, pharmaceuticals, materials, energy, oceans, the environment, information and transportation.
"All the efforts indicate that our Qingdao campus zone of SDU is targeting to become one of the world's leading centers of science and technological R&D as well as cross-disciplinary cooperation," Zhang said.
The new campus not only provides excellent resources for students, but also creates top conditions for cross-disciplinary study as well as studies on emerging subjects.
"To commercialize research results, educate innovative spirits and give back to society are what we are committed to achieving."
To date, SDU has teamed up with the University of Chicago; Johns Hopkins University; the University of California, Berkeley; Virginia Polytechnic Institute; the State University of Arizona; and San Jose State University.
"SDU aims to cooperate with top-level US counterparts. Benefiting from their unique advantages, we will jointly attract a batch of cutting-edge technological projects."
"They are expected to be incubated, fostered and commercialized at the Qingdao park and eventually better serve society," Zhang said.
Startup alliance
On June 13, 2015, SDU inked a strategic partnership with Haier Group to jointly build a 2025 Innovation and Startup Alliance, which is planned to accelerate the synergic effects among the university and the Fortune 500 company and the transfer of technological achievements.
The alliance will set up more makers' spaces and startup funds, in a bid to provide solid support to students.
Currently, the Qingdao High-tech Industrial Development Zone has set up a 20-million-yuan angel investor fund while the alliance has attracted 1.3 billion yuan from 1,328 venture capital firms and 98 incubators.
Some 30 companies including Glorious Oriental, Insigma under Zhejiang University and the US-headquartered Dow Chemical are founding members.
More than 100 universities and occupational institutes from Guizhou and Shandong have expressed interest in cooperation. The Shenzhen Virtual University Park and Suzhou's higher learning innovation district are actively encouraging local universities to join the park.
The SDU president said: "The Sino-US park and the 2025 alliance are the major measures to fulfill the university's target to build an internationalized innovation and startup education system."
"The efforts are reforming our previous personnel education system, helping the students to enhance their competitiveness and helping them to adapt better to society and the new era."
zhuanti@chinadialy.com.cn
(China Daily 04/07/2016 page7)