Ford aims to 'change the way world moves' with new platform
Ford Motor is looking beyond making and selling cars and trucks into becoming a customer-oriented mobility solutions provider.
The US automaker is planning to introduce a platform called FordPass in China later this year, said John Lawler, president and CEO of Ford China, at a news conference in Beijing on Feb 23.
The platform will help users with the mundane, such as talking to online assistants for help on finding and paying for parking more easily as well as renting and sharing vehicles on trips, to the educational, such as exploring the company's latest innovations, learning about its mobility services and experiencing exclusive events.
Lawler said the arrival of the platform and other technologies will help the automaker become "a serious player in mobility services".

He said of the $2.3 trillion in revenue generated by the automotive industry each year, Ford nearly takes in a 6-percent share. But, he added, automakers including Ford make next to nothing from the $5.4 trillion in annual revenue from mobility services.
"Ford is becoming an auto and a mobility company providing great products and great customer experiences," he said.
Lawler's remarks came a month after Ford President and CEO Mark Fields unveiled the smart mobility plan at the Consumer Electronics Show in Las Vegas.
He said the plan would take the company to new levels of connectivity, mobility, autonomous driving, customer experience and big data.
"We are driving innovation in every part of our business to be both a product and mobility company -and, ultimately, to change the way the world moves," said Fields, who is joining IBM's board of directors to help navigate Ford's path toward smart mobility.
While critics have argued that Ford might be going too far as an automaker, the US automaker insists it is going in the right direction.
"If not us, who?" said Ford Chairman Bill Ford at the Detroit auto show in January when he spoke of the automaker's mobility plan, adding that the plan "fundamentally means making people's lives better".
Ford is forging ahead with its plan in some of its most important markets, including China. Lawler said its onboard SYNC 3 system will become available in the Chinese market this year.
The system will enable drivers to control their phones through voice commands in 15 Chinese dialects, which is key in China, where 45 percent of the nation's drivers use their mobile phones and where 31 percent are likely to send messages when stuck in traffic, according to a recent Ford survey.
Another of Ford's innovations, its open-source software platform called SmartDeviceLink, is gaining in popularity. Lawler said tech giants like Alibaba have signed on to work with Ford on the platform, while Toyota announced in January that it will adopt it in its vehicles to offer its consumers an easy way to control their smartphone apps on the road. SA Peugeot Citroen, Honda, Mazda and Subaru are eyeing Smart-DeviceLink for its vehicles.
Ford is also conducting ride-sharing programs in China. It initiated a one-month pilot program late last year that saw 170,000 rides in Shanghai and Beijing, paving the way for experiments with new patterns of car ownership, said Lawler.
He said Ford engineers are also offering apps that can help commuters avoid traffic jams in Shanghai.
lifusheng@chinadaily.com.cn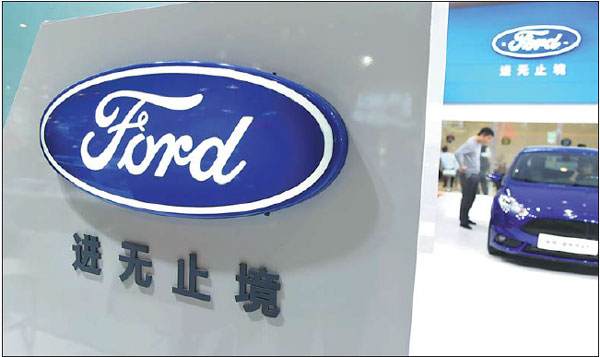 John Lawler, president and CEO of Ford China, says the arrival of FordPass and other technologies will help the automaker become 'a serious player in mobility services'. Geng Guoqing / For China Daily
(China Daily 02/29/2016 page19)
Today's Top News
Editor's picks
Most Viewed