Inheritor of ejiao secrets spreads TCM around the world
An annual ejiao festival kicked of in Dong'e county, Shandong province, on Dec 21, the eve of the winter solstice, to promote the donkey hide gelatin.
The festival is co-organized by Dong'e Ejiao Co Ltd and the county government. "We have hosted the event since 2007, aiming to further publicize the nutrition value of ejiao and the importance of taking tonics in the winter solstice," said Qin Yufeng, CEO of Dong'e Ejiao Co Ltd, the largest producer of ejiao products.
The winter solstice, or dongzhi, is an important solar term in the Chinese lunar calendar. According to the traditional Chinese medicine principles, dongzhi is the best time for eating tonics, such as ejiao, which is a type of TCM made from donkey hide. Ejiao is one of the top three tonics in TCM and can help improve blood circulation and boost energy levels. The other two valuable tonics are ginseng and deer antler.
The county of Dong'e first produced ejiao, or donkey hide gelatin. The county's underground water contains rich amounts of zinc, iron, calcium and magnesium as well as minerals that improve the effectiveness of ejiao.
From the Han Dynasty (206 BC-AD 220) to the Qing Dynasty (1644-1911), Dong'e ejiao served as a tribute to the royal families. According to historical records, Emperor Taizong of the Tang Dynasty (AD 618-907) loved ejiao so much that he sealed up a well in Dong'e and ordered it opened only during the winter solstice to collect the water for ejiao production.
Empress Dowager Cixi, one of the most powerful and controversial female figures in Chinese history, also enjoyed eating ejiao products to maintain her health.
In 1855, Cixi, who was then a concubine of Qing Emperor Xianfeng, became pregnant. And she was in danger of miscarriage.
A Dong'e doctor was credited with saving her baby by using ejiao in his treatment of her. The baby later became the Tongzhi Emperor.
Ejiao was exported to foreign countries through the ancient Silk Road that connected China with the old Roman Empire, becoming the earliest Chinese health and beauty product to enter international markets.
The TCM tonic was also among the prized possessions that Italian merchant Marco Polo brought back to his country after he traveled to China in the late 13th century.
The ejiao making method is a national-class intangible cultural heritage with a history of nearly 3,000 years. Qin is the inheritor of this intangible cultural heritage item.
Traditional ejiao production methods have extremely high requirements for water, time, skills and quality of the donkey hide. It requires collecting water at midnight of the winter solstice, using golden pots and silver-made spatulas. Ninety-nine steps are also required to make the highest quality ejiao. The whole process takes about nine days and nights.
Before 2007, the method had been lost for about 100 years.

That year, Qin and his apprentices remastered the production techniques.
"Ejiao reflects unique Chinese wisdom and civilization. We are dedicated to the protection and inheritance of the traditional methods of making ejiao, renovating ejiao history and gathering and improving recipes," Qin said.
The company has collected more than 3,200 famous ejiao recipes and over 200 ejiao diet therapies.
It also spent four years redeveloping one of its traditional products, a syrupy compound of ejiao, with tens of millions of yuan in investments. The newly developed product has proven to have unique efects in curing dengue fever and anemia.
Qin said the product has been listed as a national-class innovative medicine and is among the first choices for the TCM to go global.

The syrupy compound is now popular in the United States, Canada and Indonesia, and experts predict it has great potential in overseas markets. Sales of the product in Indonesia reached 10 million yuan ($1.54 million) last year.
"Along with the revival of Chinese culture, it will be a trend for the traditional Chinese medicine to have a higher level of globalization," Qin said.
In 1915, Dong'e ejiao won the only gold prize for tonics at the Panama Pacific International Exposition held in San Francisco.
This year, it won a "100-Year Expo Company" certificate at the opening ceremony of Shandong Week at Expo Milano 2015.
The company also produces snacks using ejiao as the main ingredient, such as a product that mixes ejiao with walnuts, white rock sugar, black sesame seeds and other materials.
Also, it launched a new type of ejiao jujubes during the ejiao festival, which will be firstly sold at JD.com, a leading online shopping portal in China.
Grabbing opportunities brought by the Internet Plus strategy has been a main focus of Dong'e Ejiao these years to expand its marketing channels.
The company has established partnerships with many online retail giants such as Tmall and JD.
It also set up an e-commerce company in Beijing earlier this year to integrate and manage those online marketing resources.
haonan@chinadaily.com.cn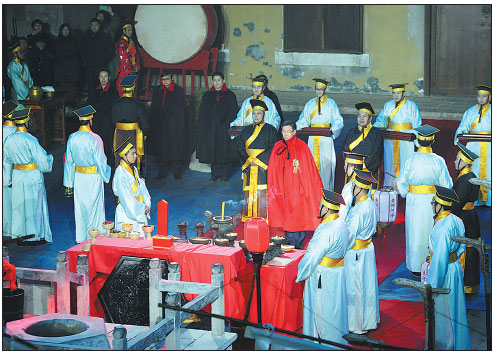 High-quality ejiao is served as a tribute to the royal families in ancient China.Wang Qian / China Daily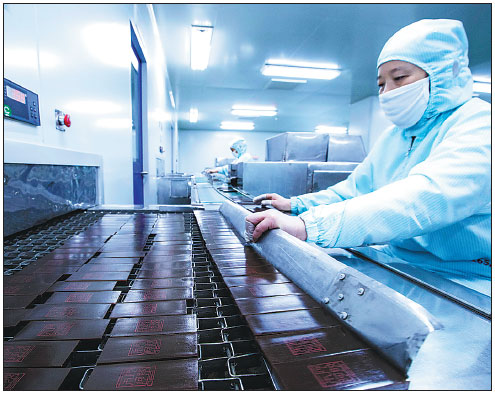 A production line of Dong'e Ejiao in Shandong province. Photos Provided To China Daily
(China Daily 12/28/2015 page15)
Today's Top News
Editor's picks
Most Viewed