Toutiao, a personalized news app, values the spirit of sharing and the creative power that technology provides to users. Photos Provided to China Daily
The popularity of smartphones has weakened the inequality of information flow and made the world increasingly transparent, said Zhang Yiming, founder and CEO of Toutiao, a personalized news app.
He made his remarks at a subforum of the World Internet Conference in Wuzhen, Zhejiang province, on Wednesday.
"New concepts and new knowledge can be spread all over the world in seconds," Zhang said. "This is amazingly fast compared with previous ages."
In addition to vastly increased speed, he said content is becoming richer in the age of the Internet that features a spirit of sharing, and much of content comes from "cognitive surplus" - the knowledge people acquire in their free time.
"Before, only highly educated elites could produce content," he said. "But with the development of technology, the barrier to content production is becoming lower."
He cited an example of his friend, who read many books after giving birth to a baby. He suggested she open an account on Toutiao to share what she had learned, instead of just keeping it in her diary.
"Reading books and taking notes will help you, while publicizing them can influence tens of thousands of people," he told her.
His friend did open an account, sharing the experiences of how she and her mother raised children. The content was popular, which gains tens of thousands of views on Toutiao.
"Cognitive surplus has always existed," Zhang said. "It is only that the Internet has shortened the distance between information and audience."
The news app Toutiao is "technically speaking, the mobile Internet plus a personalized recommendation engine", said the CEO.
"We always wanted to become the information platform that knows its users best, connecting people and information, and promoting creation and exchange.
"In short, we want to use technology to make sure highly efficient information flows. Toutiao matches information and people."
Zhang said the app automatically recommends appropriate news and other content to users based on their interests, favorites, model of smartphones, geographic positions and local environments, which he said is the biggest difference between Toutiao and traditional news apps.
The app so far has more than 350 million downloads and over 35 million daily active users, more than the total user numbers of most traditional news portals, Zhang said.
"The driving force behind this achievement is precise distribution and interaction between users," he said, adding that even minority content can have a large quantity of viewers.
"Let's say there are 500,000 people in the country interested in the guzheng (a traditional Chinese musical instrument), but there is no guzheng magazine for them because they live all over the country and few live in the same city or county.
"It is difficult for traditional distribution channels to reach them all but, on our platform, authors of guzheng-related content can easily find those 500,000 people."
zhangzhao@chinadaily.com.cn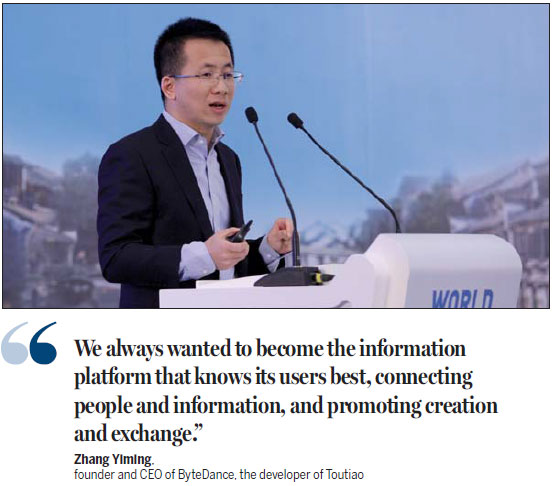 (China Daily 12/17/2015 page26)