Luxury brands face the uphill e-commerce climb
The Singles Day shopping event this year recorded 91.2 billion yuan ($14.19 billion) in sales on Tmall, signifying the undeniable development of e-commerce. For a considerable period of time, Taobao was the symbol of China's e-commerce and viewed as the Chinese version of eBay among foreigners. It was regarded as a low-end player in the customer-to-customer market. Western brands used to consider China's e-commerce channels a sewer for disposing discounted products and dumping inventories.
That is true to some extent: Consumption capacity and affordability in e-commerce are still limited despite recent growth. Top brands have been prudent in entering into China's e-commerce, especially in collaborating with Alibaba over the past three to five years. Today, with China's e-commerce market booming, Western brands, including luxury brands, have begun to rethink their e-commerce strategies in China's market.
Over the past three to five years, growth in China's e-commerce has impelled Western brands to think differently.
They're also looking at China's e-commerce market differently because of the end in growth for luxury brands after the nation imposed its austerity measures on lavish spending and implemented its anti-corruption campaign. Since then, China's roaring e-commerce has appeared to be a lifesaving straw.
These luxury brands have also been confronted with tremendous challenges in expanding their offline sales. Increasing rent and labor costs and the reckless expansion of shopping centers have led to marginal effects on top line growth.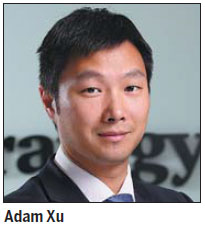 Tmall's success and Alibaba's US listing have led Western brands to change their perception of Chinese e-commerce, particularly its astounding size and growth rate. The 57.1 billion yuan in sales for Tmall on Singles Day last year is comparable to the offline sales numbers for the Black Friday event in the United States in 2014. But the astronomical 91.2 billion yuan in sales for Singles Day this year has rocked the retail industry around the world.
Western brands must also think about the post-1980 and post-1990 generations who have become the main online consumer group in China. Their dominance of this market can be seen in the apparel business, with growth rates of entry-level luxury brands taking the throne from cheaper brands that used to make up the majority of e-commerce sales. This consumption capacity is getting progressively closer to the price range offered by luxury brands.
Through e-commerce channels, these two generations make purchases and deepen their knowledge of certain brands.
Nevertheless, many top Western brands have a vague understanding of China's e-commerce, which is why they find it to be important yet difficult. Many have no idea how to get started. The feeling of insecurity haunts many executives at many multinational corporations and top brands who have attached great importance to Chinese e-commerce.
What's the next step?
Several years ago, a number of luxury brands dipped their toes into different markets. None chose China. Today, a few luxury brands are looking to work with Tmall.
But which type of brand is better suited for starting an e-commerce site? Although prices in the Chinese e-commerce market are rising fast, they are still relatively low. To put it simply, lower tier brands find it easier to get into e-commerce, while prestige brands need time to cultivate their e-commerce markets.
Uniqlo and Decathlon are two good examples. They are both successful in China and their offline retail experience is superb. The two brands define their products as populist and high-quality, targeting various consumer groups. Uniqlo ranked atop the apparel industry for Singles Day 2015.
Due to their limited consumer group and high pricing, luxury brands need to find their starting points to find and cultivate e-commerce customers.
The author is a Shanghai-based partner with Strategy&.
(China Daily 12/17/2015 page26)
Today's Top News
Editor's picks
Most Viewed