Russia has become another major stage for Chinese high-tech companies to showcase themselves overseas and seek new business partnership through an annual startup competition in its capital city of Moscow, in which three Chinese companies participated in June.
The startup competition was organized by the Skolkovo Foundation, a nonprofit organization founded in September 2010 by the Russian government to accelerate the country's economic transformation from resource-intensive to innovation-based.
The foundation is overseeing the creation of the Skolkovo Innovation Center, located near Moscow and composed of 1,200 high-tech startups, the Skolkovo Technopark, the Skolkovo Institute of Technology (Skoltech) - a new graduate research university established in collaboration with the Massachusetts Institute of Technology - and Skolkovo city.
Together, these entities will establish a vibrant ecosystem of technology innovation and entrepreneurship. Fifty global corporations including Boeing, GE, Microsoft, Samsung, and Panasonic have already recognized the opportunity Skolkovo presents by signing R&D partnership agreements with the foundation.
Vasily Belov, senior vice-president of Innovations development for the Skolkovo Foundation, said Chinese high-tech businesses are welcome to invest in Russia and his foundation is well prepared to invite Chinese companies to attend science and technology fairs in Moscow next year.
President Xi Jinping and his Russian counterpart Vladimir Putin sought to reach a consensus in connecting China's construction of the Silk Road Economic Belt with Russia's construction of the grand Eurasian passage and the development of the Eurasian Economic Union during a meeting between the two in May.
The foundation has also been supporting the development of nuclear, space and information technologies and actively pursuing joint projects with Chinese partners.
In April, it teamed up with China's Cybernaut Investment Group to create a $200 million venture fund to stimulate high-tech innovations of mutual interest.
As part of this project, a joint company will launch a constellation of 10 new-generation satellites for daily imaging of the 100 biggest cities in the world with accuracy of 0.7 meters per pixel.
The foundation and AliExpress, part of the Alibaba Group, conducted a contest for Russian innovative microelectronics projects. The seven best projects were selected and contest organizers will help their designers promote the products through online channels of the Alibaba Group.
Optogard Nanotech, a company based on Skolkovo, signed an agreement with Shandong Trustpipe Industry for $2.5 million to develop laser-plasma modification technology for metals and alloys in pipe production. The new technology would substantially increase the working lifespan of pipelines.
The joint project was included in a list of projects approved by the Russia-China subcommission for scientific and technological cooperation in 2016-2017.
Belov sees a bright future in Sino-Russian cooperation in high-tech. He said the foundation could extend bilateral cooperation from energy to high-tech sectors, and both sides need to boost student exchanges or even set up a joint university.
Recently, the Russian foundation carried out a survey of more than 600 startups from 20 Russian cities to assess their interest in operating in the Chinese market. The results show that 35 percent of the companies are interested in entering the Chinese market or already operate there.
The Skolkovo Foundation announced on Dec 11 that it plans to open a representative office in the Zhongguancun Science Park in Beijing.
Victor Vekselberg, president of the foundation, said: "The Skolkovo Foundation started working with China in 2012 and, since then, the Eastern direction has become very important for our project. There is genuinely large demand from Russian and Skolkovo's high-tech companies to operate in the Chinese market."
The office is expected to open in the first quarter of 2016. "I'm certain that it will serve as a perfect gateway for Russian innovative startups to China and for Chinese investors and companies to the Russian technological market," Vekselberg said.
Tus-Holdings, the owner of the Science Park of Tsinghua University TusPark, is a long-time partner of Skolkovo. The Skolkovo Intellectual Property Center, together with TusPark, developed a roadmap for the entrance of Russian innovation companies to the Chinese market and of Chinese companies to the Russian market. The roadmap outlined recommendations on how to defend IP rights in China and, in 2015, nine Skolkovo startups used the recommendations to file applications for IP registration in China.
In June, a TusPark team accompanied three Chinese startups to Moscow for this year's Skolkovo Startup Competition.
The competition has great support from the Russian government and Russian Prime Minister Dmitry Medvedev attended the event.
"For me, participating in such a competition or delivering speeches on the overseas stage means a lot to my company," said Wei Qingchen, CEO and founder of Emokit Tech Co, a startup company looking for foreign partners.
Herbert Chen, executive vice-president of Tus-Holdings, said the biggest concern of Chinese startups at the science park is no longer competitiveness, but the language barrier.
"For instance, we and three local startup companies went to Moscow for the Skolkovo Startup Competition. Although the CEOs had Russian-speaking assistants, when some investors wanted to know some things, they found it very difficult and inconvenient to have a talk in depth via a translator."
Anotoly Chubais, former deputy prime minister of Russia, said China and Russia have maintained good trade in energy, commodities and consumer goods from China. "But my belief is that there is huge new room for opportunities - that's in high-tech," he said.
Chubais said Chinese high-tech companies should invest and expand their businesses in Russia, instead of only exporting to Russia.
renqi@chinadaily.com.cn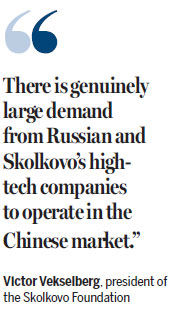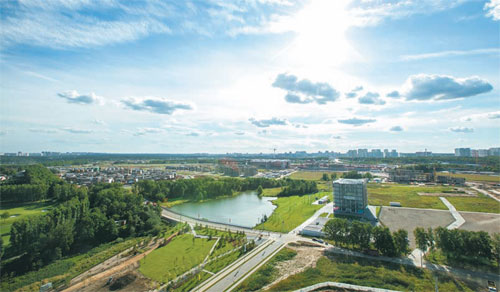 The Skolkovo Foundation has constructed an expansive territory that includes an innovation center, technology park, a research institution and a small city. photos provided to China Daily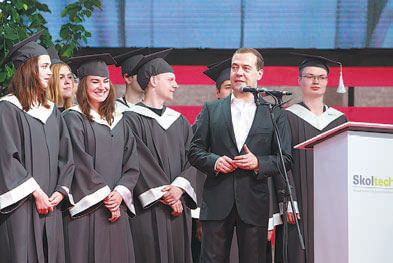 Russian Prime Minister Dmitry Medvedev granted diplomas to the first graduates of the Skolkovo Institute of Technology on June 3.
(China Daily 12/16/2015 page7)