Paid service solution to infringements
At the eighth China Copyright Annual Conference on Friday, industry insiders called for a paid service to tackle online music infringement.
A solution to one of the most essential problems in the online music industry could be to charge for songs, said Xie Guomin, CEO of music copyright distributor Omusic.
"From the perspective of international experience, no other model is better than a paid service in the music industry," he said.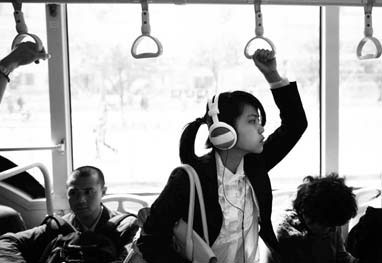 A woman listens to music on a bus in Guangzhou. Industry experts say paid service is one way to tackle online music piracy. Chen Hui / For China Daily
Up to 60 to 70 percent of the profit from the digital music business in the United States, where copyright protection is highly regarded, comes through iTunes. The US generates $4.6 billion in annual revenue from the digital music business. But most digital music in China is still free, Xie added.
Nearly 500 professionals including Internet tycoon Lei Jun and composer Gao Xiaosong attended the annual conference, held by the Copyright Society of China.
Charging for songs is the basic guarantee of a healthy music industry. However, governments have their administrative obligations to fulfill, and they should support all parties legally involved in the online music business, said Yu Cike, director of the copyright management department at the National Copyright Administration, according to China National Radio.
The conference aims to promote online copyright protection and one of the main topics is to create a better ecosystem to protect the copyright of online music.
According to the latest World Intellectual Property report, released by WIPO last week, annual music market revenue has reached $14.9 billion, 80 times more than in 2004, said Wang Binying, WIPO deputy director-general.
Wang spoke highly of the Chinese government's efforts in fighting against online music piracy.
The NCA, China's top copyright watchdog, announced stricter rules in July for the streaming of music, requiring online music service providers to remove all unlicensed music by July 31.
Service providers who fail to abide by the regulation would face serious punishment, the administration said.
The tough regulation aims to create a healthier and more benign music market in China.
"China's digital music market has great potential," said Qi Xuchun, vice-chairman of the National Committee of the Chinese People's Political Consultative Conference, China's top political advisory body.
"On one hand, the rapid development and widespread application of Internet technology has reshaped the landscape of the music industry and changed its business model. On the other hand, the creativity and promotion of the music industry have been boosted greatly because of the new technology."
The change in the industry will lead to opportunities but also bring challenges, Qi said, adding that digital music piracy has become easier, and it is difficult to detect.
luowangshu@chinadaily.com.cn
(China Daily 12/02/2015 page17)
Today's Top News
Editor's picks
Most Viewed