Threshold to be lowered for green cards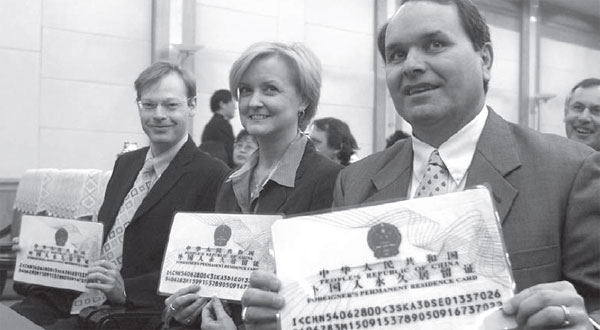 Foreigners in Shandong province receive permanent residence cards from the local entry and exit administration after living for several years in China. Gong Hui / For China Daily
"I am so happy I finally got Chinese permanent residence after staying in China so many years," said Ada Jen, a US citizen and administrator at an international school in Beijing.
"The permit could bring me more convenience, such as opening a bank account, applying for a driver's license or buying houses," she said.
Jen has lived in China for more than 20 years and obtained a green card in early 2012 after qualifying as an important foreign expert in the country, but many of her friends are not so fortunate.
"Many foreigners in China want to get a Chinese green card, but they are facing practical difficulties to meet the high requirements," she said.
Jen is just one of the more than 600,000 foreigners who were living in China by the end of 2013 and China issued only about 5,000 permanent residence permits between 2004, when the green card policy was introduced, and 2013, according to the Ministry of Public Security.
The country's permanent residence permits have been called "one of the most difficult to obtain in the world" due to the high requirements involved. Since 2015, China's authorities have pledged to lower the threshold to apply for China's green card and streamline the procedures for applicants.
In June, the Ministry of Public Security issued a notice to lower the threshold for permanent residency for foreigners serving in some government-affiliated institutions and scientific or research centers.
The ministry said foreign experts in such institutions who are at assistant professor level or above, have worked at that level for at least four years and lived in China for three years with good tax records, would be able to apply for permanent resident permits at their local entry and exit management department.
Launched in 2004, China's green card policy offers permanent residency for desirable foreign experts and people with large investments or who have made outstanding contributions to the country.
In recent years, the policy is "lagging far behind practical needs to attract more talented people and investments from overseas," said Wen Guohui, a press oficer at the Ministry of Public Security.
Chinese authorities have been working on draft regulations to lower the threshold on offering permits to foreigners working in science research institutions, he said.
"Such measures will play an essential role in attracting more high-level foreigners and overseas Chinese to contribute more to China," said Hong Daode, a professor at the China University of Political Science and Law.
After obtaining green cards, foreigners "enjoy the same rights as Chinese when they invest in business, purchase a house and apply for a driver's license," he said.
Wang Huiyao, president of the Center for China and Globalization, said better immigration policies would help the country recruit overseas professionals and attract more foreign investment.
"More foreign capital may come with the arrival of more foreigners. It will raise their expectations about the opportunities that China will offer," Wang said.
zhangyan1@chinadaily.com.cn
(China Daily 11/24/2015 page4)
Today's Top News
Editor's picks
Most Viewed