Today marks one year since the conclusion of the negotiations that led to the landmark China-Australia Free Trade Agreement, or ChAFTA. On Nov 17, 2014, Australia and China announced the successful end to the first and most important stage of bilateral talks for the pact, almost 10 years after discussions started. Both countries officially signed the agreement on June 17 this year.
Australia, rich in natural resources, has relied heavily on exporting its minerals internationally. "With Australia having a small domestic economy, there was always recognition that our future lay in our capacity to export to the rest of the world," said Stephen Cartwright, CEO of the New South Wales Business Chamber. Over the years, China has become the most important market for many of these resources and a key export market.
The current situation of China's slowing and maturing economy will affect the composition of Australian trade with the country. Martine Letts, CEO of the Australia China Business Council from 2013 to 2015, explained: "ChAFTA comes at a time of rebalancing in the Chinese economy, with consumption now a key driver of economic growth. While resources exports to China will continue to be important for Australia, Chinese demand will grow for other products and services Australia is good at."
"We certainly are not the only providers in the world of these goods and services," she said, "but ChAFTA will improve Australia's competitive position by abolishing or reducing tariffs and improving market access for a range of services."
"There's no doubt that Chinese consumers look favorably on products and services from Australia," said Cartwright. "The question is how to take advantage of that good reputation and consumer interest."
Institutions such as the NSW Business Chamber and ACBC facilitate and drive activity and collaboration between Australia and China. In the private sector, boutique firms such as Growth Concept Management are facilitating investments and M&As between Australia and China, connecting entrepreneurs and companies by building relationships and trust for successful partnerships.
"ChAFTA is a perfect opportunity to collaborate between two nations who have had a long history of mutual respect," Cartwright added. "This is an opportunity that we should not miss - it is really the golden moment for Australia and China, and we have to be mindful that we probably have a 10-year window to take full advantage of what the ChAFTA can offer."
NSW Business Chamber created the initiative "Export Growth China", allowing Australian brands to introduce their products to the Chinese market over a period of six months through a dedicated showroom in the Shanghai Trade Center. "Through this, we will provide ongoing market feedback regarding product packaging, license requirements and other essential intelligence to SMEs who want to explore the Chinese market," Cartwright said.
Letts said that the majority of ACBC's members are SMEs, which stand to gain considerable benefit from the ChAFTA. ACBC is keen to help more SMEs take advantage of the openings ChAFTA offers.
"We also want to encourage Chinese companies to work with Australian businesses to help build mutual understanding of the opportunities which will help them conduct successful business in Australia and China," she said.
On a related note, Letts believes that a key challenge for Australia's commercial relationship with China is getting the Chinese investment story right and the need to foster a better understanding of the benefits of Chinese investment in Australia. "There is still quite a lot of work to be done explaining to the public the advantages of Chinese investment in Australia and not to feel intimidated by the volume and potency of Chinese investment," she said.
info@worldeyereports.com
World Eye Reports provided the story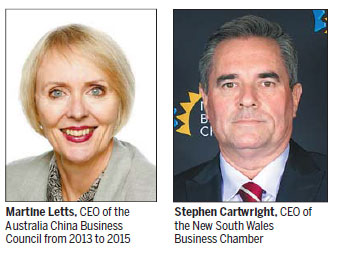 (China Daily 11/17/2015 page18)