Sino-Singapore collaboration to help transform research into capital
Sino-Singapore Guangzhou Knowledge City is focusing on developing a new platform to facilitate cooperation between companies and research and development institutions, said Ang Boon Peng, vice-president of strategic collaboration for the Sino-Singapore Guangzhou Knowledge City Investment and Development Co.
SSGKC, a 50-50 joint venture company between the Guangzhou Development District and Singapore's Singbridge, is an iconic project in Guangdong province involving China-Singapore cooperation. Started in 2010, the project aims to develop a 123-square-kilometer "city" that is home to high-end industries and global talent.
Located northeast of Guangzhou, the Southern Startup Area of SSGKC has begun its joint development, with infrastructure construction in the area close to completion, said Ang.
Ascendas OneHub GKC, an integrated business park jointly developed by Singapore's Ascendas Group and GKC Co, is under construction and its facilities will be operational by the end of the year. The business park will offer a one-stop "work, live and play" environment for enterprises.
The Singapore Center within OneHub is already operational and provides one-stop services and information solutions to Singapore-registered companies in the SSGKC.
"The mission of SSGKC is to take the lead in industrial upgrading and economic transformation in Guangdong province," said Ang.
He said manufacturing has long been the backbone industry of the province and that innovation and R&D resources are needed in the area.
SSGKC is currently working on a new project to establish a Sino-Singapore International Joint Research Institute in the area. A milestone agreement for the project is scheduled to be signed during President Xi Jinping's visit to Singapore this week, Ang said.
The founding members of the institution include Guangzhou's South China University of Technology, Singapore's Nanyang Technological University, Guangzhou Knowledge City Administrative Committee and GKC Co. Ang said it is important to draw on resources and experiences of leading players around the world in order for Guangdong to further develop its innovation and high-tech industries.
Ang said the joint research institute is an "open platform" that seeks to cooperate with other R&D institutions and enterprises and is based on a model of 'joint innovation".
"The joint research institute is also not about carrying out basic research. More importantly, we hope that through this platform, companies in the region that seek to upgrade their technologies and products, could access the latest advanced technology from the top global research institutions to enhance their businesses and products. In turn, such institutions can access the Chinese market and, at the same time, commercialize their research."
Ang said the win-win collaboration was an example of how innovation can drive economic growth.
The joint research institute will focus on areas including next-generation electric vehicles and intelligent urban transportation systems, nutrition and food science in South China, large public buildings and sustainable urban development, pollution control and environmental restoration, biomedical materials and medical instruments.
With these projects, Singapore will be able to lend its expertise to China and bring Chinese enterprises to Singapore to expand their global business, said Ang.
In addition to Nanyang Technological University's participation of the joint research institute, the university is also involved in establishing a "Center of Excellence for Software Transfer" with Liu Hong, dean of public administration and the School of Humanities and Social Sciences at Nanyang Technological University. Liu said the university is working with GKC Co to establish courses for Chinese entrepreneurs and government officials that will be offered both in SSGKC and in Singapore. The program is part of the university's cooperation with SSGKC to help executives in China learn from Singapore's expertise and experience.
He said courses would cover economics, industrial policy, business management, sustainable development and human resources management.
Ang added that with these training and joint research and innovation projects, SSGKC is focusing on attracting more talent.
"Talent is crucial for developing a knowledge-based economy," he said.
The concept of a knowledge-based economy has become mainstream thinking in China with the government's recent push into innovation and information technology industries.
Both SSGKC's business and living environment have been geared toward attracting and retaining professionals, Ang said.
"One-third of SSGKC's land is used for industrial development, one-third for residences and one-third for creating a beautiful living environment to make SSGKC an ideal place to work and live," he said.
For more information about Sino-Singapore Guangzhou Knowledge City, visit www.ssgkc.com
fuchao@chinadaily.com.cn

A high-quality living environment is part of Sino-Singapore Guangzhou Knowledge City's appeal in attracting and keeping talent. Photos provided to China Daily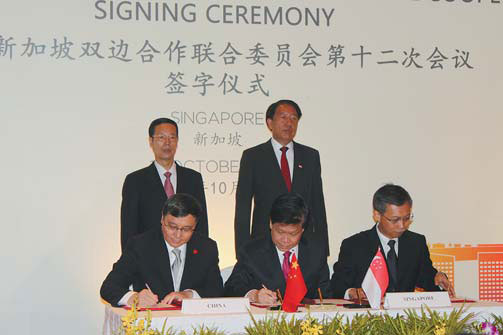 The Guangzhou Knowledge City Administrative Committee signs an agreement with Nanyang Technological University on Oct 13 to provide courses in business management at SSGKC.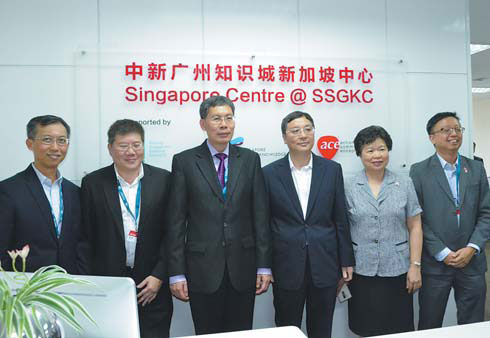 The Singapore Center at the Ascendas OneHub GKC, a business park in SSGKC, opens on July 29.
(China Daily 11/07/2015 page8)
Today's Top News
Editor's picks
Most Viewed