Rivalry keeps Ronaldo revved
Cristiano Ronaldo says his fierce rivalry with Lionel Messi provides all the motivation he needs to keep striving for even more success.
Real Madrid forward Ronaldo has jousted with Barcelona striker Messi for the La Liga title, the Champions League crown and a host of individual awards since moving to Spain from Manchester United in 2009.
Messi has four La Liga titles and two Champions League triumphs in the period following Ronaldo's arrival at Bernabeu, while the Madrid ace has one Spanish league success and one Champions League triumph with Los Blancos.
After Messi won the Ballon d'Or given to the world's best player four years in a row, Ronaldo, who also won the award while with United in 2008, managed to turn the tables as he picked up the trophy in 2013 and 2014.
The supremely talented duo both possess an intense desire to be ranked as the very best and that, combined with their roles as figureheads of dueling superpowers Real and Barca, has prevented them from striking up any kind of friendship.
Asked how he felt whenever Messi got the better of him, Ronaldo told BT Sport: "I'm always disappointed when I lose, it's normal. I'm not a fake person. I'm not going to hide it when I feel disappointed.
"But I'm not complaining because I've won three times, I never thought I would win one Golden Ball, so to win three is great, gives me great motivation to work hard and achieve more.
"I want more and more. I still have many years to play, and I want to win more things.
"Messi is an unbelievable player and maybe it pushes me more, harder, to be better and better.
"But the people who know me, know I'm always like that, I try to be the best professional in my job, I try to be the best all the time.
"Sometimes it's not possible because we are human beings, we are not machines. But in my mind I'm the best and I work like the best."
Earlier this season, Ronaldo became Real's all-time leading scorer with 326 goals in all competitions, but he hasn't enjoyed the same domestic success as Messi.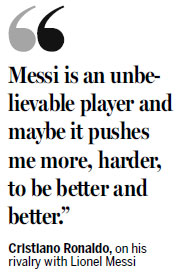 Even during Jose Mourinho's reign as Real boss, the pair won only one La Liga title in 2012 and reportedly clashed over the team's cautious style of play.
But Ronaldo remains a fan of Mourinho and offered his support to the beleaguered Chelsea chief.
"I would put him at the top, I always say that. He's a good coach, he did many good things and won many trophies for other clubs," Ronaldo said.
"My coach is now (Rafael) Benitez and I'm comfortable we are going to win many things together."
While Ronaldo and Messi reign supreme as the world's best, the Madrid player still keeps an eye on the next generation of emerging stars.
He regards Real teammate Martin Odegaard, Chelsea's Eden Hazard, Manchester United's Memphis Depay, Paul Pogba of Juventus and Barcelona's Neymar as the most exciting talents to follow.
"You see many players with potential. Odegaard of Madrid for example, at 16 he's still young but you can see he's very good," Ronaldo said.
"Hazard for example, Manchester's Depay is a good player too. Pogba and Neymar."
Who's the best? Perennial rivals Lionel Messi and Cristiano Ronaldo can both mount a strong argument for being the best soccer player on the planet. AFP File
(China Daily 11/07/2015 page11)
Today's Top News
Editor's picks
Most Viewed