Tourism, culture festival gets underway in Foshan
The 2015 Guangdong International Tourism and Culture Festival opened in Foshan on Saturday, taking guests from home and abroad for a dive into Lingnan's culture.
Lingnan is a region encompassing the three southern provinces of Guangdong, Hainan and Guangxi Zhuang autonomous region.
Launched in 2005 by the Guangdong Tourism Administration, the festival aims to display the diversity of tourism resources in 21 cities across South China and attract more investment and visitors.
As the host city this year, Foshan hopes to seize the opportunity to raise the profile of its tourism, ofering a variety of activities for guests and local people.
Parades to celebrate the annual Qiu Se, or autumn colors, festival will turn the city into a sea of song and dance on Saturday and Sunday.
Mai Jiehua, deputy mayor of Foshan, said, "The tourism and culture festival is a stage to showcase the time-honored Lingnan culture and the new outlook of Foshan.
"It is also a platform where 21 cities in Guangdong seek to cooperate on preserving traditional culture and boosting modern tourism."
Foshan was one of the four most prosperous towns in China during the Ming and Qing dynasties (1368-1911) and its manufacturing strength has lasted hundreds of years.
It is a manufacturing base in the Pearl River Delta and made-in-Foshan products, especially home appliances, furniture and ceramic building materials, are now sold around the globe.
The opening ceremony of the 2015 Guangdong International Tourism and Culture Festival is in the Louvre International Furniture Exhibition Center, a shopping mall and national 4A-level scenic spot.
It is known as "a freeentry museum of furniture", displaying products of more than 2,000 domestic and foreign brands as well as featuring pieces collected from art design museums worldwide.
Foshan's kung fu, food and pottery are its big attractions to foreign tourists, according to Xie Jianhua, deputy director of the city's tourism bureau.
"Foshan doesn't have much natural scenery, no magnificent mountains or sea, but it has typical Lingnan culture which is a tourist attraction of good vitality," Xie said.
However, he said the city's tourism potential has not been fully tapped.
According to Xie, less than 1.5 million of the nearly 40 million visitors to Foshan in 2014 were foreign tourists.
A few more than 11 million of these visitors stayed overnight.
Tourism revenue totaled 49.8 billion yuan ($7.8 billion) last year, contributing 6 to 7 percent of the city's GDP.
In July, the city government set a goal to develop Foshan into a tourism, culture and creative industry center and a famous tourist city within five years. The annual output of the three sectors should reach 130 billion yuan by 2020.
There are more than 50 martial arts clubs in Foshan, the hometown of Wong Fei-hung (1847-1924), Yip Man (1893-1972) and Bruce Lee (1940-1973).
Xie said these clubs would be developed to provide overseas kung fu fans with study programs that could last weeks or months.
The clubs offer different styles of Chinese kung fu and Xie said the city government plans to apply for National Intangible Cultural Heritage status for Foshan kung fu.
A museum for martial arts is planned and the city also wants to develop industrial tourism. Haday, one of the world's largest flavoring producers, ofers visitors tours of its manufacturing base in Gaoming district.
People can learn the traditional method of making soy sauce from 300 years ago and can get a glimpse of the modern automated production lines.
"Both enterprises and the tourism business benefit from industrial tourism. It is an effective promotion of the brand and products. At the same time, it ofers tourists a new attraction that is fun and educational," Xie said.
xujingxi@chinadaily.com.cn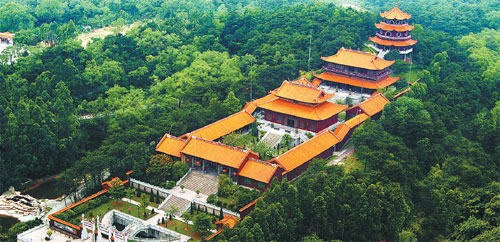 Sanshui Confucius Temple in Foshan is the biggest Confucius temple in South China. Photos provided to China Daily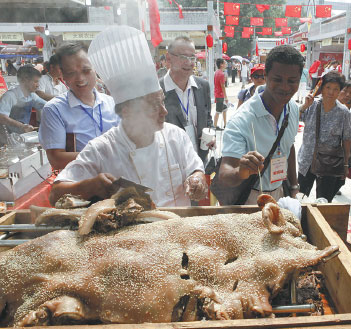 Steamed and roast pig is a specialty of Foshan's Jun'an township.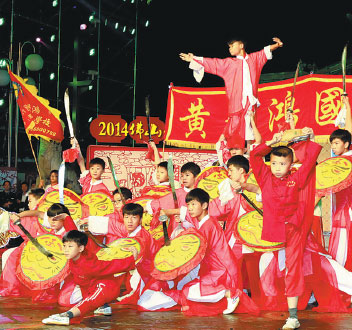 Foshan's kung fu is a big attraction for foreign tourists.
(China Daily 10/31/2015 page12)
Today's Top News
Editor's picks
Most Viewed