A view from Tibet, the roof of the world
Entering the Tibet autonomous region everything slows down as oxygen levels decrease, allowing people to enjoy the region's fantastic natural beauty and relaxed atmosphere.
The autonomous region is on the Tibetan Plateau in Northwest China. As the highest region on Earth, Tibet has an average elevation of 4,900 meters above sea level.
In September, celebrations were held to mark the 50th anniversary of the founding of the Tibet autonomous region.
China Daily reporters visited various areas of Tibet to look at changes in the region during the past 50 years.
The autonomous region is home to about 3.1 million people and 92 percent are of ethnic minorities.
Buddhist images and Tibetan scriptures, including om mani padme hum, the mantra of the bodhisattva of compassion, can be seen and heard everywhere, carved in stones, murmured by pilgrims and written on prayer flags and wheels.
Lhasa resident Drolma Yangkyi walks around Jokhang Temple once a day and the Potala Palace once a week, but she doesn't feel like her devotional circles are enough.
"I wish I could circle more. But I have to work and it takes me much time," she says, adding that older members of her family circle more often.
Tibet is home of many sacred sites including Mount Kailash and Lake Mansarovar in Ngari. For pilgrims, circling either site is a great honor and the fulfillment of a lifelong desire.
Tibet attracts people not only for its mystery and beauty but also for its development.
The local transport authority says that in 1950 the region had no paved roads, but by the end of last year, 75,000 kilometers of roads had been built.
Medog, the last county in China unconnected to the outside world by road, was linked to the national highway network in 2013.
In 2006, a railway was opened to link Lhasa, the capital of Tibet, with neighboring Qinghai province. The line was later extended as far as Xigaze, Tibet's second-largest city.
The region is mountainous, so building roads and railways is expensive. To compensate for this, airports were built in Lhasa, Qamdo, Nyingchi, Ngari and Xigaze, and nine airlines operate 310 flights a week to 38 cities.
Contact the writer at @chinadaily.com.cn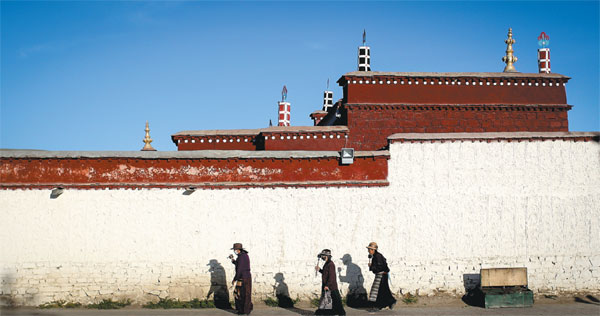 Tibetan pilgrims circle a monastery in Nagqu. Photos By Wang Zhuangfei / China Daily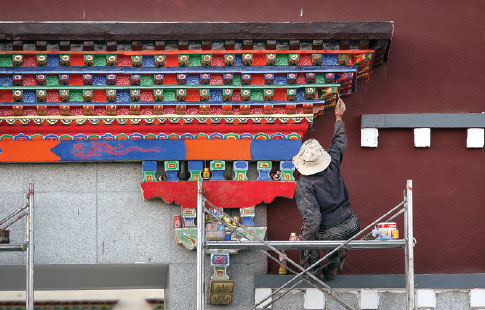 A worker paints door frames at a monastery in Nagqu.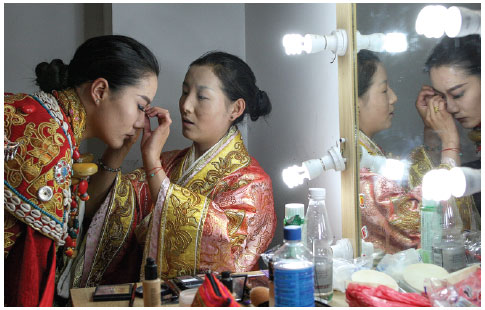 Performers of drama Princess Wencheng help each other with makeup before going on stage.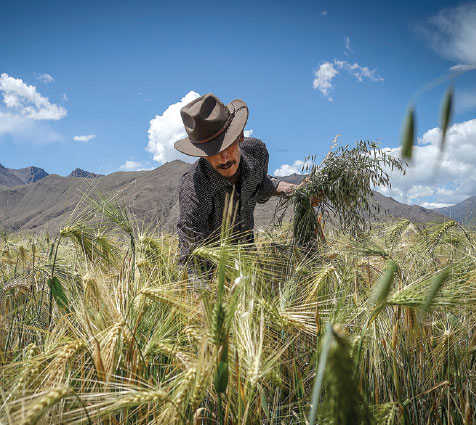 A Tibetan farmer works in a barley field in Nedong county, Shannan prefecture.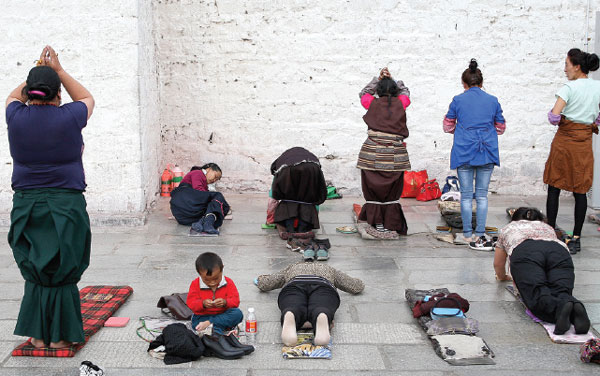 Followers of Tibetan Buddhism worship outside Jokhang Temple in Lhasa.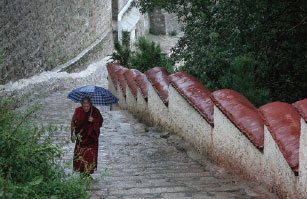 A Buddhist monk walks in the rain at Drepung Monastery in Lhasa.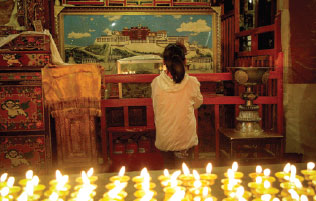 A tourist at Drepung Monastery.
(China Daily 10/06/2015 page6)
Today's Top News
Editor's picks
Most Viewed