One of the most significant trends in the global innovation landscape is "the impressive rise of China", said Francis Gurry, director-general of the World Intellectual Property Organization.
"Since 2011, more patents and industrial design rights are filed in China than anywhere else in the world," he said in a recent exclusive interview.
Government data shows that the State Intellectual Property Office received 928,000 applications for invention patents last year, an increase of 12.5 percent from 2013, enabling the country to retain its No 1 world ranking in patent filing for the fourth straight year.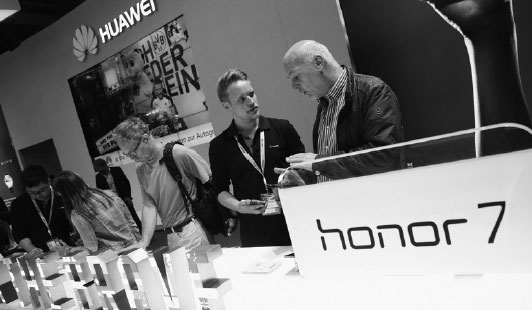 Huawei's booth attracts visitors at the 2015 IFA consumer electronics and appliances trade fair in Berlin. Huawei is a Chinese company with global competitiveness. Sean Gallup / For China Daily

China has topped the world in trademark applications for 13 consecutive years, with some 2.28 million filed in the country last year, setting a new record.
"In many industries, Chinese products and technologies have emerged as globally competitive," Gurry said.
As a growing number of Chinese players compete in international commerce, they are aware of the increasingly important role of intellectual property, he added.
The share of Chinese-origin IP applications under global filing systems governed by WIPO, the including Patent Cooperation Treaty, has thus increased.
WIPO data shows that some 25,600 international trademarks filed through the Patent Cooperation Treaty in 2014 originated from China, ranking the country the third-largest PCT filer worldwide and the only one that realized double-digit growth.
"There is still ample scope for future IP filing growth from China," the director-general said.
"For China's economy to sustain fast growth, Chinese companies need to increasingly compete on the basis of new technologies and innovative products - as many already do," he said.
"IP is critical for generating a return on their investments in innovation and for protecting the competitive advantage that innovation confers."
The global IP landscape has shifted towards Asia, with the continent's share of global patent filings increasing from 47.3 percent in 2003 to 58.4 percent in 2013, Gurry said.
In the case of trademark filings, Asia's share has risen from 34.5 to 48.3 percent over the same time period, according to WIPO data.
"Because of the growing centrality of IP in the region's development strategies, WIPO's focus has been, and will continue to be, on strengthening regional cooperation and establishing collaborative platforms to build capacity, access information and encourage collaboration among countries, involving both the private and public sectors, to foster innovation and creativity," Gurry said.
"Progress on multilateral cooperation has been a significant challenge in recent history, with governments finding a limited capacity to agree internationally," he said. "This goes beyond IP and extends to other cooperation areas such as trade and climate change."
"The reasons are manifold, ranging from the rise of middle income countries who legitimately wish to have a greater say in multilateral fora, to the complexity of global policy challenges in which different countries hold different stakes," he said.
Nevertheless, "we have still been relatively successful" in international cooperation in the IP sphere, with two multilateral treaties concluded in the field of copyright in recent years, including the Beijing Treaty on Audiovisual Performances adopted by the Diplomatic Conference in Beijing in 2012, the director-general said.
The past 20 years saw the rapid transition of the creative economy from an analogue marketplace distributing physical goods to a digital marketplace distributing digital content over the Internet, he said.
"The rapid evolution of technology that has accompanied this transition from analogue to digital has on the one hand made more creative works available to more people than ever before, and has allowed us all to be both creators and consumers of creative works.
"But on the other hand, this exponential increase in the number and accessibility of creative works has been accompanied by a significant loss of economic value to creators, performers and the creative sector," he said.
Technology has facilitated widespread illegal downloading and streaming of content, in part by making these activities simple, he added.
"It is now urgent to establish a seamless global digital marketplace, which makes it as easy to get content legally as it has been to get it illegally," Gurry said.
"The creation of such a marketplace is an extremely delicate and complex process, not the least because most of the building blocks have to be put in place by the enterprise sector and not the public sector."
wangxin@chinadaily.com.cn
(China Daily 09/16/2015 page17)