Clinton apologizes for private e-mail server
It took three interviews and five days for Hillary Clinton to say "I'm sorry".
After resisting apologizing for using a personal e-mail account run on a private server to conduct government business as secretary of state, Clinton shifted course on Tuesday.
"That was a mistake. I'm sorry about that. I take responsibility," the front-runner for the Democratic presidential nomination said in an interview with ABC News. She reiterated the apology in a late-night note to voters on Facebook.
Clinton's late-arriving mea culpa came just 24 hours after she insisted that she didn't need to apologize because "what I did was allowed". That comment came after a sit-down with NBC News on Friday, in which Clinton said only that she was sorry if her actions had caused voters any confusion.
The apology evolution is the latest chapter for an issue that has dogged Clinton's presidential campaign for months. Despite a big fundraising advantage and a slew of endorsements from party leaders, Clinton's standing with voters has slipped - multiple polls show a majority of US citizens don't find her honest and trustworthy.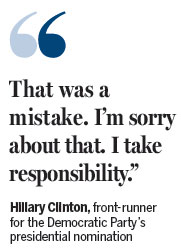 After the shaky summer, Clinton's advisers say she'll more fully address the e-mail saga as the campaign presses into the fall. Top campaign officials have started emailing memos to anxious supporters and convening late-night conference calls with prominent Democrats.
Clinton's string of national interviews around the Labor Day holiday weekend was supposed to be a signal that she was on board with the idea of being more forthcoming. Or, as Clinton said, to take responsibility and "be as transparent as possible".
In that same interview, while offering a more contrite tone when pressed about her decision to work outside the State Department's e-mail system, Clinton also rejected the idea that an apology was necessary.
"What I did was allowed," she said. "It was allowed by the State Department. The State Department has confirmed that."
While Clinton's campaign offered no immediate explanation for why she changed her mind on an apology, the fact that she did suggests an acceptance that it was untenable to continue avoiding saying the words "I'm sorry".
(China Daily 09/10/2015 page12)
Today's Top News
Editor's picks
Most Viewed