Tus-Holdings improves services provided to startups, tech companies
Tus-Holdings Co, which developed and runs the Tsinghua University Science Park, has been constantly improving the service it provides to startups and innovative companies.
The company now boasts a seven-step system for incubating businesses and helping them develop well, according to Li Zhiqiang, director with the administrative committee of the science park.
The system offers classes related to the establishment of companies, helps startups get financial and law services as well as attract investments, and helps develop high-tech companies with high potential.
Li said, "There is no need to register a company in the first three steps and it can be just a startup project."
That policy particularly aids startups as it is not easy to register companies, and they need to pay taxes after registration, Li said.
Tus-Holdings set up 50 incubation centers worldwide by May this year, and established the InnoSpring incubator in Silicon Valley in 2012 together with other organizations.
The incubator aims to help entrepreneurs from China and the United States set up and develop companies. It offers services including capital, guidance, office sites and audits.
To date, Tus-Holdings has incubated more than 2,000 companies and helped 18 businesses go public.
Among the listed companies include ChineseAll.com, a Chinese digital publication provider that went public in January, and Spreadtrum Communications, a leading mobile phone chip company in China.
Li said Tus-Holdings is focusing on scientific and technological services and building an ecosystem for startups and innovative companies, combining resources including funds, a media subsidiary and government support to better serve the companies.
Tus-Holdings was set up in 2000 based on what was the Tsinghua University Science Park Development Center. The university still holds 45 percent of the shares in Tus-Holdings.
One of the functions of universities is to serve society, Li said.
He said to fulfill that function, Tus-Holdings aims to serve startups and innovative companies and promote the idea of innovation through the seven steps in its system.
songmengxing@chinadaily.com.cn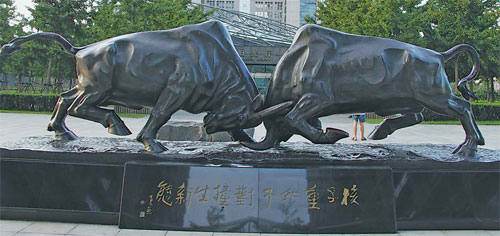 A sculplture at the Tsinghua University Science Park. Under Tus-Holdings, the park aims to optimize its services to investors and starups.
(China Daily 09/10/2015 page7)
Today's Top News
Editor's picks
Most Viewed