Technology gains global spotlight
Ma Yun's keynote address at the opening ceremony of CeBIT 2015 in March in Hanover, Germany, brought a Zhongguancun high-tech startup into the global spotlight. At the end of his speech, Alibaba's founder bought a stamp on the Taobao site, which Ma also owns, and paid for it by using the startup's facial recognition technology.
The company, Megvii, was founded in 2011 by three Tsinghua University graduates, who were born in 1987, 1988 and 1989. The young company, however, features strong innovation capacity and technological strengths in computer vision and deep learning.
The Beijing-based company now has nearly 70 engineers, of whom nearly 90 percent are graduates of Tsinghua University, one of China's most prestigious colleges. Moreover, most of them have taken first prize in international computer programming contests.
One of the company's important service platforms is called Face++, or Face Plus Plus, which, as its name suggests, focuses on facial recognition technology.
"'Plus Plus' means a new version or better things in computer language, and we are working on the creation of a next-generation face recognition engine," said Yin Qi, co-founder and CEO of Megvii.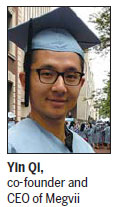 Face++ is a cloud service platform offering three core vision services - detection, recognition and analysis. It also provides offline customized products and services.
Since its establishment in 2012, the platform has enabled more than 30,000 software applications, mobile apps and websites, and handled about 6 billion pictures. It is the world's largest face recognition platform and is known for its "powerful and professional technologies" in Silicon Valley and Southeast Asia, Yin said.
Customers of the platform were mainly involved in the entertainment industry in its early days, such as image processing software Meitu Xiuxiu, iOS game Crows Coming and dating website Jiayuan.com.
Face++ is seeking more partners in the fields of finance and transportation, to realize a deeper application of the technology.
In the future, face recognition technology could be applied to every industry and field, Yin said. In 2013, the global biometrics market was worth more than $7.3 billion, 18 percent of which was contributed by face recognition products.
In 2017, the total biometrics market will grow to nearly $11 billion, according to technology strategy and research consultancy Acuity Market Intelligence.
haonan@chinadaily.com.cn
(China Daily 09/10/2015 page7)
Today's Top News
Editor's picks
Most Viewed