Clashes bring Greek isle near 'verge of explosion'
Britain and France pledge to take in more refugees fleeing conflict in war-torn Syria
Fresh clashes erupted between police and migrants on the Greek island of Lesbos on Monday night, which authorities said was "on the verge of explosion," as Britain and France pledged to accept tens of thousands more refugees from the record influx.
A dozen or so coastguards and riot police armed with batons struggled to control some 2,500 migrants on Lesbos, screaming "Keep back" at the crowds as they surged toward a government-chartered ship bound for Athens.
Europe's borders are near breaking point as authorities struggle to cope with influx of people fleeing war and poverty in the Middle East and Africa, with thousands making their way across the Balkans and the Mediterranean every day.
Lesbos, home to some 85,000 people and which has seen more than 15,000 mainly Syrian migrants arrive on its shores, is one of several Greek islands struggling to cope with a wave of voyagers setting sail from the nearby Turkish coast for Western Europe.
"I stayed here eight, nine days - oh my God, I can't even remember," said Aleddin, an engineering student who is hoping to join his brother in Germany.
"Some people have been here for 14 or 15 days. The government doesn't care."
Germany told its European partners they must take in more refugees on Monday as it struggles to cope with record numbers of asylum seekers and as police in Hungary used pepper spray on migrants who broke out of a reception center at the border.
Chancellor Angela Merkel, speaking after a weekend in which 20,000 migrants entered Germany from Hungary by train, bus and on foot, described the influx as "breathtaking" and tried to reassure the country the crisis was manageable.
Hours after a Greek passenger ferry sent lifeboats to rescue 61 migrants off Lesbos, junior interior minister Yiannis Mouzalas told To Vima radio the port of "Mytilene currently has 15,000-17,000 refugees. ... The situation is on the verge of explosion."
Evangelos Meimarakis, leader of Greece's hard-right New Democracy party, which could return to power this month, said the country should strengthen its borders so as not to send "the message that 'it's good over here, come over'".
Police line broken
In Hungary, scores of migrants broke through a police line near a refugee center and marched toward Budapest on Monday, while police in Denmark closed down a motorway in the south as crowds made for the Swedish border.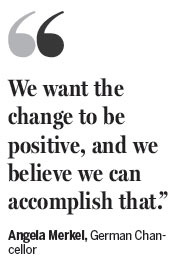 As European Union leaders stepped up efforts to tackle the region's largest migrant crisis since World War II, France said it would take 24,000 more asylum-seekers under a plan to relocate 120,000 refugees from hard-hit front-line countries.
British Prime Minister David Cameron said his country would also do more, taking in 20,000 Syrian refugees from overflowing camps near the war-torn country's borders over the next five years.
Germany, Europe's top migrant destination, said it expected 10,000 more people to arrive on Monday after about 20,000 came on the weekend, most of them arriving on trains from Hungary via Austria to the southern city of Munich to cheering crowds.
Merkel pledged billions more euros to house them, describing the crisis as a milestone for Germany.
"What we are experiencing now is something that will ... change our country in coming years," she said. "We want the change to be positive, and we believe we can accomplish that."
Europe's top economy predicts the crisis will cost 10 billion euros ($11 billion) this year and next. Merkel said the federal government would contribute 6 billion euros for new shelters, extra police and language training in 2016.
AFP - Reuters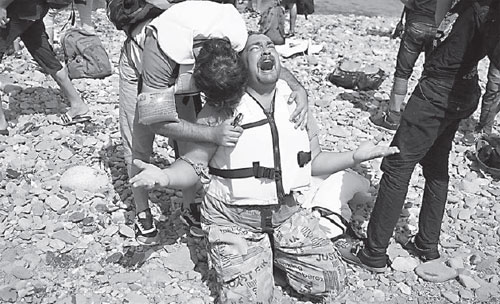 Syrian refugees react as they arrive after crossing aboard a dinghy from Turkey, on the island of Lesbos, Greece, on Monday. Petros Giannakouris / AP
(China Daily 09/09/2015 page11)
Today's Top News
Editor's picks
Most Viewed