Port zone takes shape in logistics city
Chongqing's rail, air, river links create global inland trade hub
Located at the intersection of the Belt and Road Initiative's trade route and the Yangtze River Economic Zone, Chongqing Logistics City is poised to become a major international port zone in inland China.
Established in 2007, CLC stands in Shapingba district, the western part of the municipality, covering about 35 square kilometers with a total investment of 111.7 billion yuan ($17.49 billion).
It is the starting point of the Chongqing-Xinjiang-Europe International Railway and boasts full railway infrastructure, including a railway port for international trading.
The area's Tuanjiecun container terminal was the first to make a profit among the nation's 18 such stations. There are six lines from neighboring provinces that meet in CLC, which has built the largest railway marshalling yard in the country.
The initiative, proposed by President Xi Jinping in 2013, stands to benefit the area through increased trade and investment from China and abroad.
"By 2025, we can expect a new international port city of 300,000 people emerging in the western part of Chongqing," said He Yong, chief of Shapingba district..
"The area will then reach 80 billion yuan in GDP with high-end logistics companies and an international trade settlement center in western China."
He is confident that CLC has "unique" advantages to become one of China's major inland trade ports.
Chongqing, the only municipality in western China, is the economic and trade hub in the upper reaches of the Yangtze River and a gateway to the vast inland area. In the first half of this year, the city's 11 percent GDP growth rate led the rest of China and was 4 percent higher than the nation's average of 7 percent.
Thanks to its comprehensive transportation system involving air, water and land, the city of 30 million people is also one of the nine key logistics centers in the country.
Chongqing Jiangbei International Airport has 22 international passenger routes and 18 international cargo routes.
With annual throughput of 25.3 million passengers and capacity to move 300,000 metric tons of cargo, the airport ranks 63rd in the world in terms of combined passenger-cargo throughput. An ongoing expansion project will increase its annual throughput of passengers to 45 million.
Guoyuan Port, which is linked with the Chongqing-Xinjiang-Europe International Railway, began operations in December 2013.
With investment of 10 billion yuan, the port has 16 berths and can handle 6 million tons of bulk cargo annually. Coal and iron ores from the Xinjiang Uygur autonomous region and Gansu province are transferred at the port.
Goods from neighboring provinces and countries are transported to Shapingba Tuanjiecun railway terminal and sent to Central Asia and Europe.
He said the CLC also plans to develop a railway bonded logistics center and apply to become a free trade zone. The logistics center will provide international trade and logistics services, especially in cross-border e-commerce, intermediary trade and payment settlement.
A third-party payment platform is now under development. In May, Chongqing Railway Port Logistics Development Co, Fujian-based Yonghui Group, a superstore giant in China, and Liangka (Beijing) Information Technology Co Ltd started to build the platform together with registered capital of 100 million yuan. The platform's trade volume is expected to reach 300 billion yuan in the third year after launching.
New Silk Road
The Chongqing-Xinjiang-Europe International Railway made its debut from the CLC's Tuanjiecun Railway Station in January 2011.
The nearly 11,180-kilometer link begins in Chongqing, crosses the border into Kazakhstan at Alashankou, the Xinjiang Uygur autonomous region, and passes through Russia, Belarus and Poland before reaching its terminus in Duisburg, Germany.
Logistics companies such as DB Schenker and Far East Land Bridge already use the land route to transport containers between Chongqing and European ports like Duisburg in Germany's Ruhr industrial belt.
It cuts what was a five-week shipping period to about two weeks, and costs 80 percent less than air transport.
The new link offers an attractive alternative for trading companies in Chongqing that otherwise use more time-consuming and costly maritime routes via southern Chinese coastal ports, including Shanghai or Guangzhou, before shipping goods through the Strait of Malacca.
By the end of last year, the railway facilitated 130 trips and transported 1.25 million twenty-foot equivalent unit shipping containers, accounting for 80 percent of the railway shipments between China and the Europe.
To boost trade between Chongqing and Central Asia, Chongqing's first freight train to Central Asia set off from Tuanjiecun on May 28, carrying equipment for oil drilling and gas station, machinery parts and chemicals.
The train route passes through five central Asian countries, taking five days to arrive in Kazakhstan and nine days to Uzbekistan.
After the rail link is built between China and Iran, the Chongqing-Central Asia route can be extended to Afghanistan and Pakistan.
Foreign investment
Gefco, a European leader in automotive logistics, will set up a distribution center in CLC soon.
Christophe Poitrineau, Gefco's Asia president, said the Silk Road Economic Belt will create new market growth points for foreign companies in China, according to a previous China Daily report.
"With trade volume rising between China, Central Asia and Europe, China is rebuilding the ancient Silk Road and pursuing a new trading model that is focused on product quality and logistics efficiency - a shift away from the previous speed - and a quantity-centered model with slow delivery," said Poitrineau.
Chongqing is the largest car-manufacturing city in western China and the number of cars it produced shot up to more than 2.6 million last year.
After the CLC automobile import port was approved by the State Council in July 2014, it has provided European logistics companies with the option to ship cars by rail, rather than sea.
On Aug 14, the first batch of 80 imported cars departed from Duisburg, Germany, and arrived in Chongqing 16 days later.
Earlier this year, Vailog, Italy's largest logistics and warehousing provider, invested 400 million yuan into building a business center, providing logistics and warehouse services for cross-border e-commerce companies.
This project will introduce high-end e-commerce clients and international logistics providers to CLC.
"Thanks to the convenient transportation and reduced logistics costs, in the future, more and more European products will be delivered to Chinese customers at much cheaper prices," said Luo Shuquan, chairman of local developer Development and Construction Co at Chongqing Western Modern Logistics Industry Park
In May, Mapletree, a leading real estate development, investment and capital management company headquartered in Singapore, signed an investment agreement to build a cross-border logistics service platform in the CLC.
The platform will focus on the distribution of high-end automobiles and auto parts, a cross-border e-commerce operation center, assembly of medicine and medical equipment as well as the business development of a high value-added modern logistics platform.
tanyingzi@chinadaily.com.cn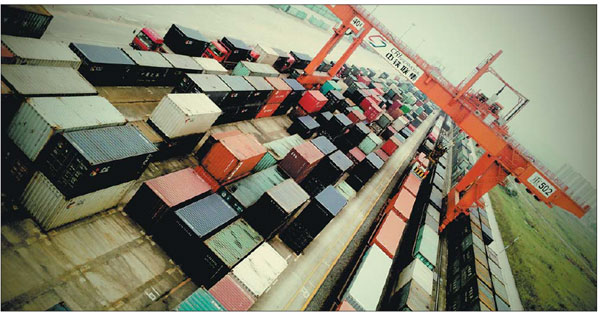 Containers are transferred from a yard near the railway in Chongqing. Liu Ping / For China Daily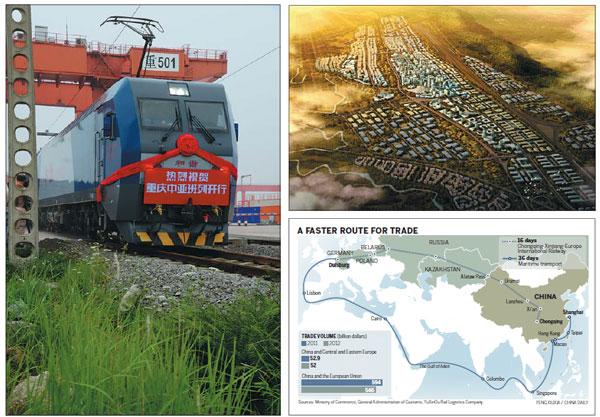 Left: Chongqing's first freight train bound for Central Asia sets off from the city in late May. Provided To China Daily Top, right: A 35-square-kilometer logistics park is planned in Chongqing. Provided To China Daily Above, right: The route of the Chongqing-Xinjiang-Europe International Railway.
(China Daily 09/07/2015 page24)
Today's Top News
Editor's picks
Most Viewed