Free trade is bringing groundbreaking opportunities to Haicang, one of the earliest and largest destinations for investment from Taiwan on the Chinese mainland.
To integrate into China's "One Belt, One Road" strategy and build itself into a pilot free trade zone, Haicang is accelerating industrial upgrading, urban development and improving residents' living conditions. The district aims to create a first-class environment for international business and build itself into a new area for regional transformation and upgrading.
Haicang is strengthening its advantages as a major destination for Taiwan investment and is expected to become a base for high-end manufacturing industries and modern service industries as well as a model for industrial transformation for Fujian province.
Good environment
Egrets are commonly seen flying over lakes in Haicang or swimming in the water, while people enjoy the scenery.
The district is one of the most vibrant areas of Xiamen and several measures were taken to improve the natural environment and quality of life for the residents.
Infrastructure in the area is also being improved. A rapid road network is under construction and projects, including building a new shipping hub, are well underway.
As well as improving its infrastructure, Haicang has also taken innovative measures to better serve enterprises in the district.
By Aug 27, 1,028 new enterprises with total registered capital of 15.2 billion yuan ($2.4 billion) had been set up in the Xiamen section of the Fujian Pilot Free Trade Zone, including 27 from Taiwan and 23 foreign-invested enterprises. In addition, 93 projects with total registered capital of $3.4 billion are under discussion.
Haicang has set up a special service area for enterprises in its free trade zone. The area helps companies register and gain approval within four working days and receive business licenses within three working days.
Port advantages
Yuanhai Port in Haicang's free trade zone is the first fully automated and zero pollutant discharge port in China that handles containers. The biggest and most advanced container ship in the world can berth at the port. Compared with traditional ports, Yuanhai Port saves 25 percent more energy and cuts carbon emissions by 15 percent, ranking it among the best ports in terms of environmental protection.
Haicang is blending the development of its port resources, its biggest advantage, into its overall development of a pilot free trade zone to build a logistics industry cluster.
It is estimated that Haicang will handle more than 6 million standard containers this year, an increase of 23 percent compared with last year, which will make the district a core port area of Xiamen.
Relying on the strengths of its port, trading of major commodities in Haicang is increasing quickly. Xiamen Petrol Trade Center saw trade value hit more than 300 billion yuan last year, ranking it second in China. After trade in Asia's biggest market for edible bird's nest starts it is expected to exceed 30 billion yuan.
Other trading centers, including those for sugar, grain and financial commodities, are also due to be established in Haicang and are expected to inject more vitality into the development of the pilot free trade zone.
Top professionals
As one of the eight measures of innovation carried out in the Xiamen section of the Fujian Pilot Free Trade Zone, a base for innovation for young people across the Taiwan Straits was set up in Haicang and has become a hub for young startups.
The innovation base has focused on the development of four industries, including high-tech-based culture and entertainment, online-to-offline commercial businesses aimed at Taiwan and Internet-based agriculture.
The base is inviting more young people to start businesses and offers preferential policies, particularly to those from Taiwan, according to a senior manager from the base.
The Haicang government issued guidelines that aim to attract more professionals from Taiwan to the area. The guidelines include a number of measures to encourage qualified professionals and managerial leaders from Taiwan to work in Haicang.
In the future, Haicang plans to further promote emerging industries, including Internet plus, innovative finance and creative culture through innovation, to add more vitality to the district.
wangxiaodong@chinadaily.com.cn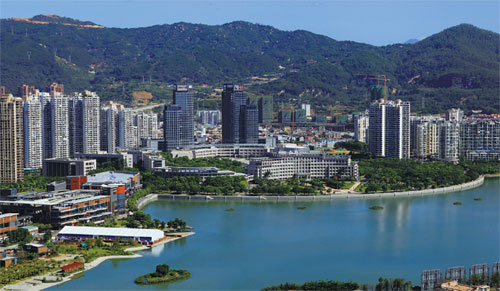 Haicang district of Xiamen, Fujian province, offers an attractive living and working environment. Zheng Weiming / for China Daily
(China Daily 09/01/2015 page7)