Dermo-cosmetic firm donates sunblock to Lhasa families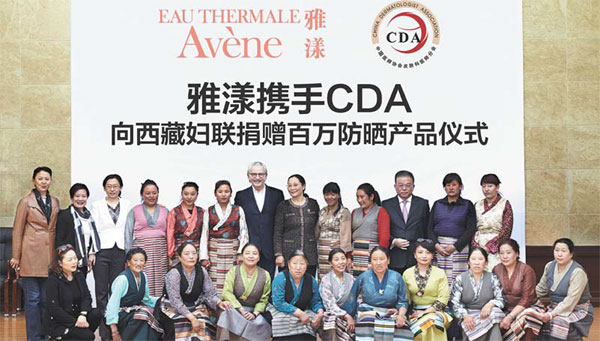 Pierre Fabre China General Manager Francis Canet (back row, center) and PF China Chief Financial Officer Li Haiyan (back row, third from left) attend a donation ceremony in Lhasa on May 9. Provided to China Daily
French dermo-cosmetic giant Pierre Fabre partnered with the China Dermatology Association to donate 1 million yuan's ($161,078) worth of Avne sunblock to residents in Lhasa, the capital of Tibet autonomous region, in May.
The local All China Women's Federation distributed the sunblock to families in the region.
"People love the sun. However, too much exposure can cause skin problems, even skin cancer, so we donated the products to residents in Lhasa," said Francis Canet, general manager of PF China.
"We hope our products help local residents, especially women and children, shield sun rays and bring warm and happy moments to them," he added.
"The donation is a win-win result for PF China and local residents. We are very proud that we can provide help to residents in Lhasa with our leading and renowned skin care products."
Chinese Medical Doctor Association honorary chairman Zheng Zhirong, Tibet All China Women's Federation President Gyasto Lhamo, Canet, chief financial officer of PF China Li Haiyan,medical director of Avne Shen Xin, vice-president of the Tibet All China Women's Federation Deji Baizhen and deputy chairman of the CDA Li Li attended the donation ceremony in Lhasa on May 9.
It is the second time PF China has donated products to people in Tibet. In 2007, the company donated 200,000 yuan's worth of sunblock to troops in Tibet. PF China said it would continue to take care of people in Lhasa and plans to have more charity programs in the region.
"We want to give back the love that we received from this country in different forms to China," said Canet.
PF China said the donation would also give people a better understanding of sun protection.
"We are not only providing products but also teaching them how to protect themselves from sun rays more effectively," said Canet.
PF entered the Chinese market in 2004 and as a leading producer of eczema treatments, the firm partnered with CDA in 2008 to distribute atopic dermatitis and eczema-related knowledge. In 2011, again with the CDA, PF established the Foundation for Atopic Dermatitis in China to build a bridge between researchers, specialists and child suffers of skin conditions and their families.
Eczema is a common skin problem among infants and children. It causes severe itchiness and inflammation of the skin, not only making children unhappy, but also increases the burden on their families.
In cooperation with the CDA and 20 hospitals, the French company launched the "1,000 Families: Better Life with Eczema" program in 2014 to give more support to families in China.
Each year PF China sponsors a Chinese child with atopic dermatitis to have treatment at the Avne Hydrotherapy Center in France, paying all costs including flights and accommodation. The center has a spa dedicated to dermatology and the treatment of skin disorders.
zhuanti@chinadaily.com.cn
(China Daily 06/30/2015 page24)
Today's Top News
Editor's picks
Most Viewed