Economy, ecology granted equal importance
Guizhou will not sacrifice its environment for faster economic growth, but will attach the same importance to them to try and increase economic, social and ecological benefits, its top official said.
The mountainous province in Southwest China features karst landscapes and a distinct natural environment, which puts Guizhou in a good position to develop ecological civilization, or a "green economy", said Zhao Kezhi, Party chief of the province.
Guizhou has many mountains, but most of them have little vegetation and weak water conservation capacities due to steep slopes and thin layers of soil. Farming on the mountains causes serious soil erosion and rock desertification, Zhao said.
The province is also rich in underground rivers, which connect with the surface water resources so if they are contaminated, it is very difficult to control and deal with, he noted.
The region also has a stable atmosphere during most of the year without strong air movements, which means short-term recovery from any pollution is slow.
According to Zhao, the province's biggest advantage in agriculture is its fertile land. The soil is full of trace elements, such as zinc, selenium and strontium, which help produce high-quality products including tea, vegetables and fruits.
If the soil is polluted, Guizhou would lose its biggest agricultural competitive advantage, he added.
Given these facts, Guizhou Governor Chen Miner regards a favorable ecological environment, rather than underground natural resources, as the best revenue source to promote the province's development.
At a provincial economic conference in 2013, Guizhou announced it would put more effort into economic restructuring. It also promoted innovation-oriented industrial upgrading, closed down polluting companies and sealed off outdated production facilities.
Since then, the province has introduced a group of projects, including the Guiyang outlet of the Zhongguancun Science Park and Foxconn Technology's "green industrial" park.
China Mobile Communication, China Telecom and China Unicom also set up big data centers to take advantage of the province's cool climate, sound power supply and widespread transportation network.
The city of Bijie, in the northwest of Guizhou, attracted a three-year investment worth about 1.5 billion yuan ($241.8 million) in 2013 to build 200,000-kilowatt coal-bed methane power generation facilities. Once in operation, the project could help reduce 6 million metric tons of carbon dioxide emissions annually.
The city also built four wind-power generation bases and plans to increase the number to 40 by 2018 with a total installed capacity of 2 million kW.
Chen said clean energy sources in Bijie would account for 20 percent of the city's total energy production by 2020.
In 2013, Wanshan district in Guizhou's city of Tongren became a pilot area for establishing a solid waste recycling demonstration zone to explore a new path of sustainable development for resource-based cities in the province.
Last year, the National Development and Reform Commission and other five governmental agencies gave approval to the province to establish a national eco-civilization demonstration zone.
According to the plans, organic agricultural products will account for nearly half of Guizhou's total production by 2020. Added value of strategic emerging industries will contribute 8 percent of the province's GDP and forests will take up more than 50 percent of the province's land areas.
haonan@chinadaily.com.cn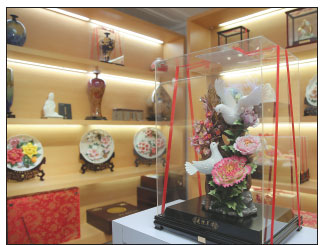 Handicrafts from Guizhou on display. The provincial government encourages innovations in traditional craftsmanship. Hu Yao / For China Daily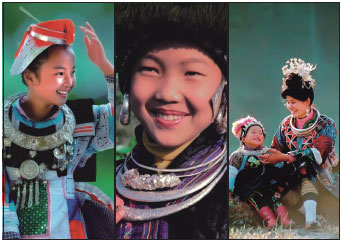 A diversity of ethnic cultures offers inspiration to Guizhou's creative industry. Photos Provided To China Daily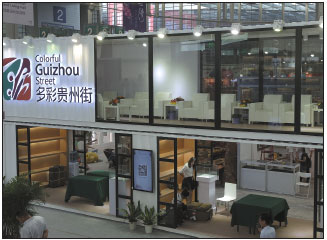 "Colorful Guizhou Street", the province's exhibition at the China (Shenzhen) International Cultural Industries Fair in May. Hu Yao / For China Daily
(China Daily 06/26/2015 page1)
Today's Top News
Editor's picks
Most Viewed