The Huawei P8 smartphone, which was unveiled at renowned arts and fashion venue Old Billingsgate in London in April, has just hit the Chinese market and has already grabbed the attention of a new generation of businesspeople.
The new model, launched by Huawei Consumer Business Group under Huawei Technologies Co, China's telecommunications giant, offers advanced technology, sleek styling, usability and low-light camera features.
"The Huawei P8 is the culmination of the P series' rich heritage of style and functionality, and is once again redefining the smartphone market with easy-to-use features that amaze and inspire consumers," said Richard Yu, CEO of Huawei Consumer Business Group at the launch in London.
With a 13-megapixel rear camera and an 8-megapixel front snapper for nose-hair-and-all selfies, the P8 is no slouch in the hardware department and the tech to back it up is equally considered.
It is all about high-contrast and low-light performance, helped along by optical image stabilization that operates over a 1.2-degree angle, next to the iPhone 6 Plus's 0.6 degrees. It also boasts the world's first four-color RGBW imaging sensor, which offers 32 percent higher brightness and 78 percent less color noise, and a DSLR-level independent image signal processor.
Add auto scene recognition, which optimizes low-light and high-contrast areas in the same shot to bring out detail at both extremes, along with multiframe dynamic time exposure, and shooting in challenging conditions need not be any more daunting than taking a basic snap.
The P8's long-exposure Light Painting feature lets users capture light-tracks from cars, silky water effects and shoot star-tracks with a single touch.
An instant preview function, called Director mode, lets users link three other Android phones and capture and edit the same scene from four different angles, while the Perfect Selfie mode can be used to smooth out imperfections.
The P8's full aluminum design gives delicate edges and precision molding to the ultra-slim 6.4mm profile, which Huawei calls an exercise in cutting-edge industrial design. Four finishes are available - Mystic Champagne, Prestige Gold, Titanium Grey and Carbon Black.
The 5.2in Full HD 1080p display packs in 424 pixels per inch, which is 124 more than a high-quality glossy magazine, and dominates the front of the phone. The Huawei P8 offers the biggest screen-to-body ratio in the business, at 78.3 percent, according to the phone maker.
The P8 is designed to prevent call failures caused by users' hands blocking the aerial as it carries two antennae - one at the top and one at the bottom - and switches between them for the best signal. It will also turn Wi-Fi on and of automatically depending on signal quality from preferred networks to connect faster when users are roaming abroad.
The P8 allows users to customize the interface. People can choose from five styled themes - Singularity, Spark, Ambilight, Enjoybloom and Newborn. Behind it all is the familiar landscape of Android 5.0, with all the apps, media, photos and connectivity users are used to.
According to Huawei, the P8's 2680mAh battery will help users keep trucking for a decent amount of time and it has a variety of other tricks to help keep battery life strong.
The 64-bit Octa-core Kirin 930/935 chip offers 80 percent better CPU performance and 100 percent better 3D-graphics performance than the P7 smartphone. A special firewall blocks abnormal battery use and fences in power-hungry apps to provide an extra 2.3 days of standby time, according to the phone company.
The P8's Voice+ tech will help with a 58 percent volume boost along with background noise-cancellation. It can also reduce wind noise by up to 90 percent when people use the hands-free microphone.
According to Yu, Huawei's P series has achieved great success around the world. Global sales of the Huawei P6 hit 5 million units in 60 countries and the Huawei P7 surpassed 4 million sales across more than 100 countries in six months.
The P8 will be sold in more than 30 countries including Columbia, France, Germany, Mexico, Spain, South Africa, Turkey and the United Kingdom.
 zhuanti@chinadaily.com.cn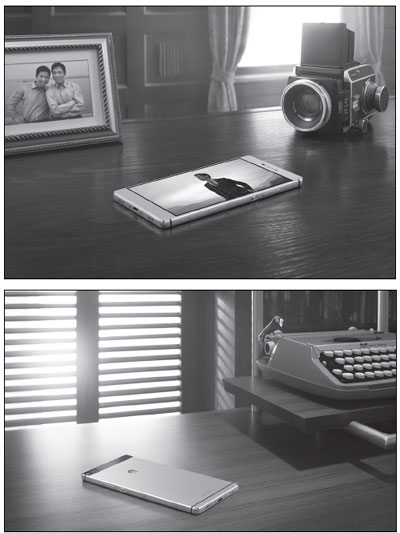 The Huawei P8 smartphone, tailored to businesspeople, offers a combination of advanced technology, sleek styling, usability and low-light camera features.Photos Provided To China Daily
(China Daily 06/24/2015 page17)