Young dominate tour market
The increasingly wealthy consumers of luxurious experiences who dominate Asian markets such as China are the "super lucrative segment" of the middle class now and in years to come, an industry report indicates.
Dubbed "Generation AAA" - referring to aspirational, ambitious and affluent - such customers aged between 18 and 34 have both the financial power and the "attitudinal and behavioral propensity" to travel and spend on luxury, said Amrita Banta, managing director of Agility Research and Strategy, which released the report in Shanghai on Tuesday, as part of International Luxury Travel Market Asia 2015.
"Even I was surprised by the purchasing power they have, but it's there. It is a known fact that the affluent are much younger," she said.
"When we talk about luxury and travel, the second generation of wealthy is the big target because they are the ones who spend and buy.
"We realized it was a very lucrative generation for all brands and services to be aware of."
In the past 10 years, the average disposable income in China has grown two and half fold, creating a huge pool of affluent consumers, much larger than any population in Europe.
A survey by Agility showed most Chinese mainland Generation AAA have an annual household disposable income of 180,000 yuan ($29,035) to 506,000 yuan. Those in the same group in Hong Kong have $60,000 to $100,000 to spend each year.
About 56 percent of those surveyed work in middle to upper management, and about 10 percent run businesses, the report said.
On the mainland, Generation AAA spends more on jewelry and luxury watches than on other categories, and travel accounts for about 20 percent of their budget.
"More than having proportional wealth to spend, they are aspiring, ambitious, they want to be rewarded for things they have done. Now, they are looking to incorporate their taste of luxury into their travel experiences," Banta said.
"They can spend $10,000 shopping on vacations - not all other nationals are able to spend that kind of money. In terms of sheer numbers, they are far ahead on spending."
Hotel operators have noticed the trend, and are tapping into the emerging market of savvy young consumers.
Anthony Ross, executive vice-president of Preferred Hotels and Resorts, who has worked in China for seven years, said, "Young Chinese people rent cars and drive in Sri Lanka. They are going surfing in Bali, the Caribbean, and they are going all over the world."
He said such customers are very international, speaking English and "perfectly" able to research online what to do and decide which hotels they prefer based on design, location and the experiences they offer.
The group is very important, he said, and will grow even more quickly than it is now. Young Chinese are getting jobs earlier and want to see what the world has to offer.
"They want to learn from it and come back to China and use what they see and experience to help business, life, bring up a family," Ross said.
Joseph Sampermans, general manager of the Peninsula, Beijing, said his hotel is also focusing on the group.
"The young generation goes overseas so they are used to seeing different products. They are more sophisticated because they are well aware of what is available worldwide. They don't mind the price but they are more demanding of the quality of products and service delivery."
The Peninsula is currently undergoing renovation to merge more than 525 rooms into 230 larger rooms to provide greater luxury.
Chris Lim, director of advertising and media for French hotel group Accor said his company has taken action to target this group of young affluent spenders.
"We have the Pullman brand which is a very practical, upscale brand and has all the efficiency that the generation is looking for," he said.
wanghuazhong@chinadaily.com.cn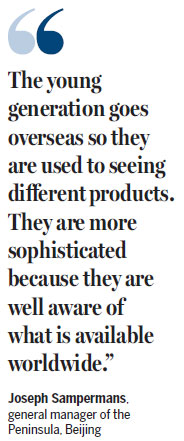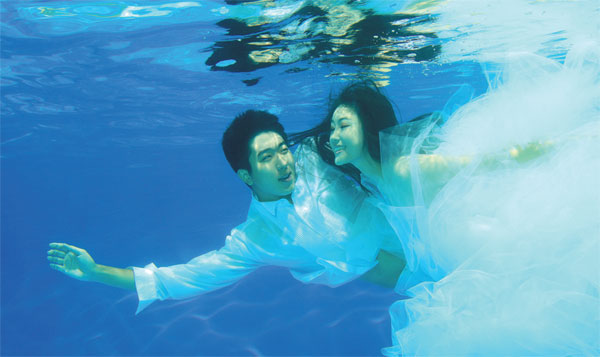 A couple swims in Sanyan, Hainan province. The coastal city, a popular honeymoon site, tops domestic tour destinations, according to The Chinese Luxury Traveler 2015. Shi Yuebin / for China Daily
(China Daily 06/03/2015 page7)
Today's Top News
Editor's picks
Most Viewed