Tourism expo opens
The hall under the great dome of the former Soviet Union-styled Shanghai Exhibition Center was decorated with a sense of luxury on Monday.
The scene was set for the International Luxury Travel Market Asia, where hundreds of international suppliers of luxury travel experiences met to tap into the opportunities that China, the world's fastest growing and biggest market in the niche, has to offer.
The ninth edition of the ILTM Asia opened on Monday and will run until Thursday. It helps exhibitors, including hotels and resorts, airline companies and travel agents, better understand the market and present their products to more than 500 buyers at the heart of the industry.
In the past five years, tourists from China have sat firmly atop the ranks of international travel and shopping consumption, accounting for 35 percent of the market, followed by Russians, who accounted for 13 percent last year, according to a report from ILTM.
More excitingly, it said, China, the leading contributor to the largest chunk of Asia's expected 1 billion affluent consumers in the next 10 years, will likely continue its growing trend.
The average Chinese high net worth individual, who is classified as someone with wealth of more than 10 million yuan ($1.6 million), traveled overseas four times last year, for a total of 33 days, of which leisure travel accounted for 20 days, up 10 percent, according to the report.
China's total number of outbound trips saw an annual increase of 17.8 percent to 116 million in 2014.
Amrita Banta, managing director of Affluential, said her organization, a global information service provider on affluent consumers, has focused its analysis on the Chinese market for more than 10 years. "Because it has to be the Chinese market and the Chinese customers who have the money to spend and the willingness to experience."
Alison Gilmore, senior exhibition director of ILTM, said this year there were more than 500 buyers at the show and 40 percent were from China alone.
"We continually seek out the new 'rising stars' in Chinese luxury travel to introduce them to our global exhibitors who represent global luxury travel choices from private jets and ski resorts to cruises and safaris, boutique hotels to wellknown hotel brands, capital cities to resorts and spas," Gilmore said.
Each year, exhibitors from around the world join the event, bringing their own definitions of luxury travel.
VisitBritain, the British national tourism agency, attended ILTM Asia for the first time this year. Joss Croft, the marketing director at VisitBritain, said luxury elements are exclusive experiences travelers can only get from the local culture.
Seeing China as a key market, VisitBritain is also interested in the rest of Asia. The event provides a fantastic opportunity to profile Britain to the Asian market, said Croft.
Contact the writers at wanghuazhong@chinadaily.com.cn and fuchao@chinadaily.com.cn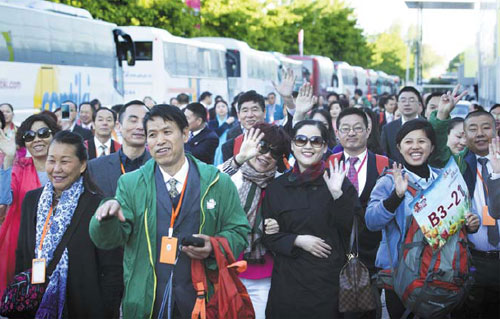 A group of Chinese tourists visit Jaarbeurs in Utrecht, the Netherlands, in May. Europe remains the most desirable destination for the next three years, according to a Chinese luxury travel report. Jeroen Jumelet / for China Daily
(China Daily 06/02/2015 page7)
Today's Top News
Editor's picks
Most Viewed