Dou Yinke is a pioneer in polar scientific research in Shanxi province.
The 42-year-old, who has a doctor's degree and is a professor of electrical engineering at Taiyuan University of Technology, has participated in two scientific expeditions in the Antarctic, in 2004 and 2011, and one trip to the Arctic in 2012.
A lab full of experiment equipment at the university was where Dou started his research into polar ice detecting technology and polar scientific research equipment.
Thinking back to his trips to the poles, Dou said scientists carrying out polar research have to overcome different kinds of challenges.
In 2004, there was no Internet or telephone at the Chinese research station in the Antarctic and expedition members were given very limited time to call their families. Nearly everyone endured loneliness and negative emotions during the latter part of their year-and-half-long field trip, Dou said.
Dou still vividly remembers how he survived a dangerous accident when he slipped into an ice crack during a field study expedition.
With no ice axe, he tried his best to stay on top of the ice using his hands.
"Icy water soon reached my waist and the deep ocean was just below me. I was nervous," he said.
"My teammate tightly held my hand while lying on the ice, crying and yelling."
Dou asked his teammate to bring over a rope tied to their snowmobile, which he used to help pull him to safety.
Dou, whose health has been affected after several polar expeditions, has been looking for polar research projects for his students.
Two of his students participated in the 30th Antarctic scientific research and the sixth Arctic scientific research projects carried out by Chinese scientists.
"Our team will become better with more and more members joining polar scientific research and accumulating field experience," said Dou. He added that another of his students would participate in an Antarctic field trip in November and carry out scientific research at Kunlun Station, which is at the highest point of the South Pole's ice sheet.
Li Mengyuan contributed to this story.
sunruisheng@chinadaily.com.cn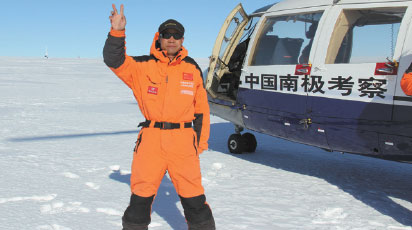 Dou Yinke participates in scientific polar expeditions, including two in Antarctica in 2004 and 2011, and one to the Arctic in 2012.
(China Daily 05/29/2015 page10)