Qingdao works to become Silk Road hub
Port city's location gives it an edge in taking advantage of initiative's opportunities, Xie Chuanjiao reports.
East China's coastal city Qingdao is striving to become a hub along the Silk Road Economic Belt and the 21st Century Maritime Silk Road proposed by the central government.
"Qingdao will establish a global layout of friendly cities with a well-run cooperation mechanism, and enhanced cooperation in the region in infrastructure, finance, marine economy, innovation, culture and tourism," Qingdao Party Chief Li Qun said at a recent meeting.
"With a strong economic base, we are confident that Qingdao has the capability to fulfill the goals for the Road and Belt Initiative," he added.
In 2014, Qingdao's gross domestic product reached 869.21 billion yuan ($140.29 billion), up 8 percent from the previous year.
In the first quarter of 2015, exports from Qingdao increased by 5.6 percent. Its Asian export market grew by 9.7 percent and exports to Africa rose 13.6 percent.
This year, another 475 projects featuring industrial transformation are expected to take place in Qingdao, with 205 billion yuan to be invested in product quality optimization, equipment updates, innovation capability enhancement and efficiency and productivity solutions.
Li said Qingdao has unparalleled advantages in transportation, as it boasts the world's seventh-largest port, comprehensive air routes and dozens of high speed trains and highways. As a city known for its shipping industry, Qingdao has a global network with routes linking to more than 700 ports in 180 countries and regions.
Qingdao Port added 11 international shipping routes in addition to 16 sea-rail freight lines in 2014. Its revenue reached 6.99 billion yuan last year, up 7 percent from the previous year.
In 2015, Dongjiakou Port, under Qingdao Port Group, will build six 10000 dead weight tonnage berths with newly increased throughput capacity of 9.48 million metric tons.
The port is planning to build partnerships with 15 overseas ports by investing directly, buying shares and through long-term leases.
Qingdao Liuting Airport, which has been operational since 1982, offers 121 air routes linking the city to 61 domestic cities and 16 international destinations. To meet the increasing demand for flights, construction is due to start this year on Qingdao Jiaodong International Airport, in Jiaozhou on the outskirts of Qingdao. The project will also include a high-speed train station, subway station and ground transport center at the airport.
The airport is due to be completed by 2025 and should be able to handle 35 million passengers, 500,000 tons of cargo and 300,000 aircraft each year.
Contact the writer at xiechuanjiao@chinadaily.com.cn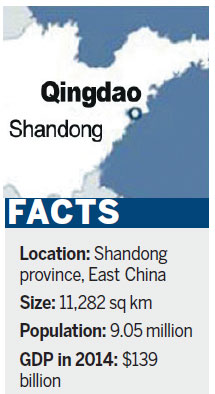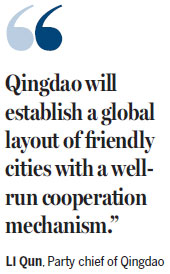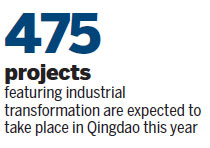 A city famed for its marine economy, Qingdao aims to play a vital part in boosting the nation's Road and Belt Initiative. Photos provided to China Daily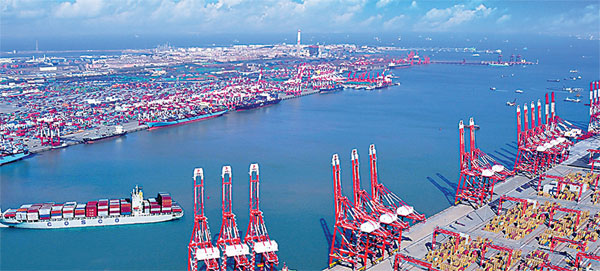 Qingdao Port handles 450 million tons of cargo in 2014, ranking third in China and seventh worldwide.
(China Daily 05/22/2015 page12)
Today's Top News
Editor's picks
Most Viewed