Collecting Moutai to learn culture
With a collection of 5,759 varieties of spirits in 67 categories, Guinness World Records recognized Ning Fenglian in 2013 for "collecting the largest number of Chinese alcoholic beverages".
Ning, 61, is chairman of Baishan Fangda Group, a large distributer of spirits based in Jilin province.
According to Ning, who started collecting spirits in 1974, he developed a special affinity to Chinese alcoholic drinks when he was a child, and the feeling grew stronger when he started a career related to the industry.
Ning became the manager of a store that mainly sold wines in the 1990s, and soon turned the company's losses into gains by carrying out a series of bold and innovative measures.
Ning still remembers how he made his first pot of gold with Moutai, one of the best-known Chinese alcohol brands.
When he found that many stores were out of stocks of Moutai and desperately seeking it, Ning, who had good connections with the producer, profited by delivering Moutai to those stores.
Since then, Ning's company has kept growing, and it now has more than 300 branches in 16 provinces and municipalities around China.
Ning said his experiences of collecting Moutai have been full of surprises and pleasure, and the cultural value of Moutai is more important to him than its monetary value.
"Moutai is not only the name of the drink," he said. "It's also part of our culture."
Ning said each vintage spirit is associated with specific historical and cultural backgrounds, and "the collecting process is also one in which I learn more about Moutai."
For example, Moutai has been frequently served at State banquets during its long history because of its recognized quality, and has played a role in China's diplomatic exchanges.
As an entrepreneur in the spirits industry, Ning also endeavors to promote the drinking culture.
His entire collection is now on permanent exhibit at the Jilin Spirit Culture Museum he built. In 2014, the special museum became a national 4A-level scenic spot.
"I will not sell these vintage bottles of Moutai even in the future," he said.
During the past decades, Ning has spent much time, energy and money searching for rare vintages, and after years of effort, he has collected almost a complete set of Moutai of different vintages, which he has classified into rare, ordinary and commemorative categories.
"I'd go to check as soon as I heard about a rare item," Ning said.
Ning's influence has lead to some of his family members taken up wine collecting, and the family often appreciates vintage wines together.
Ning said that there are no complete scientific identification system for vintage Chinese wines and spirits, and exchanges among fellow collectors are a helpful way of appreciating the history represented by their collections.
"Communication not only brings pleasure, but it deepens our friendship," said Ning, who is also the vice-president of the China National Association for Liquor and Spirits Circulation.
He says he plans to organize more events for collectors to gather and exchange information.
"We lose the true meaning of collecting if we keep our collection only to ourselves as a personal treasure," he said.
Contact the writers at liuxiangrui@chinadaily.com.cn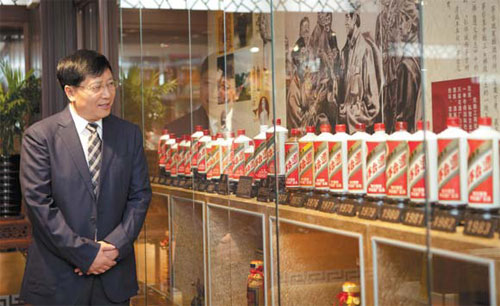 Ning Fenglian has a collection of 5,759 spirits in a museum he built. Song Tiebiao / for China Daily
(China Daily 05/08/2015 page7)
Today's Top News
Editor's picks
Most Viewed