State of emergency declared as Calbuco volcano erupts
Southern Chile's Calbuco volcano erupted on Wednesday for the first time in nearly half a century, spewing a column of ash 10 km into the sky and prompting authorities to declare a state of emergency.
Officials ordered an evacuation for a 20-km radius around the volcano, and the Interior Ministry sent the army to take control of the province of Llanquihue and the town of Puerto Octay.
Emergency measures were also in place in neighboring Argentina, where the picturesque city of Bariloche - about 100 km from the volcano - said it was anticipating the arrival of ash clouds within hours and warned people to stay at home.
Puerto Montt, over the border from Bariloche and the largest Chilean city in the area, was already blanketed in a cloud of ash.
"People are very, very frightened," said Gervoy Paredes, mayor of Puerto Montt.
"The situation is pretty complicated," he added, saying reports indicated the Blanco river was flooding because of an ice melt triggered by the eruption.
The initial evacuation involved about 270 families, but could be expanded, officials said.
Police called on residents to keep roads as clear as possible to aid the evacuation.
Calbuco had been inactive for 42 years.
It was a "rather explosive eruption," said Gabriel Orozco, a vulcanologist at the National Geology and Mines Service.
It is the second volcano in southern Chile to have a substantial eruption since March 3, when the Villarrica volcano emitted a brief but fiery burst of ash and lava.
That eruption caused authorities to evacuate more than 3,500 people.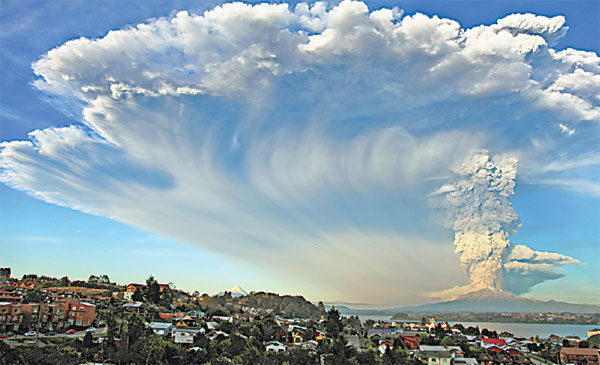 View from Puerto Montt, southern Chile, as the Calbuco volcano erupts and spews out a column of ash on Wednesday. Via AFP
(China Daily 04/24/2015 page12)
Today's Top News
Editor's picks
Most Viewed