Island plans imminent implementation of a new petroleum code to regain investors' trust
Madagascar is renowned for its exceptional biodiversity, but it is Madagascar's geology that is garnering interest among international oil and gas companies with the expected implementation of a revised petroleum law and the government's plan to issue three onshore and up to 50 offshore exploration blocks for auction later this year.
Oil exploration in Madagascar dates back almost 100 years when a French company, SERP, began drilling for oil in the 1900s, albeit with limited success. It is the recent spate of sizeable discoveries across East Africa that is reinvigorating oil and gas exploration and exploitation activities throughout the region. In Mozambique, for example, latest estimates place gas reserves at 200 trillion cubic feet and in South Africa, President Zuma has announced intentions to drill 30 offshore deep-water wells during the next decade.
Madagascar sits on more than a million square kilometers of sedimentary basins that offer both onshore and offshore exploration opportunities particularly in the west of the country. The United States Geological Survey estimates that technically recoverable, still undiscovered, offshore reserves in these basins are in the range of 10.8 billion barrels of oil, 167 billion cubic feet of natural gas and 5 billion barrels of liquid natural gas. Added to these are 1.7 billion barrels of heavy oil in the Tsimiroro field and 2 billion barrels from the oil sand deposits in the Bemolanga field - both onshore.
"We cannot ignore geological facts when it comes to speaking about petroleum in Madagascar. Our island was once part of East Africa. If oil and gas exist in that region, they are also likely present in our country," said Bonaventure Rasoanaivo, general manager of the Office des Mines Nationales et des Industries Stratgiques, or OMNIS, the state regulatory authority charged with managing and developing Madagascar's natural resources. "In total Madagascar is composed of five basins, the three most important of which are the Ambilobe, Majunga and Morondava in the west of the island. It is these three that have attracted the most attention up to now. The two remaining basins are smaller and offshore, but if we consider that even with all the exploration efforts that have occurred in the past 100 years, the area as a whole remains largely unexplored. With more than 1 million sq km to explore, there has been only one well drilled for every 10,000 sq km; that means there is a great deal of potential for investors."
A number of oil and gas companies are already operating in Madagascar. In total, 16 oil companies, including ExxonMobil and Total, have concluded 23 production sharing contracts with the government of which seventeen are onshore blocks and six offshore.
"When you realize that an offshore drilling program can easily cost between $300 to $400 million and even onshore drilling requires $35 to $40 million you can assume that these companies are confident of finding commercially viable deposits," said Rasoanaivo.
Although oil and gas have yet to be produced on a large commercial scale in Madagascar, AIM listed Madagascar Oil, which has significant onshore exploration and development rights on the island, raised expectations with a declaration of commerciality on its Tsimiroro field in May last year.
"With 1.7 billion barrels of independently audited contingent oil in place, our assets in Tsimiroro are substantial even by international standards, so we expect interest in the sector to increase dramatically," said Madagascar Oil General Manager Stewart Ahmed.
Chinese energy companies are also present in Madagascar. Among them is Hong Kong listed Yanchang Petroleum International, which through two wholly owned subsidiaries has exploration and exploitation rights in two onshore blocks, namely 3113 and 2104. Last year, Yanchang commissioned China Natural Petroleum Corporation to conduct data processing of 2D seismic exploration studies for block 2104 and 2D seismic data collection on 3113 is expected to be complete in the middle of this year.
Another market entrant is Hoifu Energy Group, which as well as owning significant oil interests in Egypt and Tunisia, also acquired Madagascar Northern Petroleum in July 2013, giving Hoifu the rights over a 10,400 sq km onshore block in northern Madagascar. According to the terms of the production sharing contract signed with OMNIS, at a later stage, Hoifu may exploit oil and gas deposits in its block for 25 and 35 years respectively with the possibility to extend if necessary.
"In the course of our promotional work to put Madagascar on the radar of international oil and gas companies, we have noticed a great deal of interest from several Chinese oil companies all of which have the technical and financial muscle to work successfully here," said Rasoanaivo. "We have already done a lot of the ground work in terms of preliminary studies, feasibility plans et cetera, and I invite all interested parties to look at this work for themselves and conduct their own studies."
Investor confidence was dented by the political crisis in 2009. "The entire country was at an impasse during the crisis and our extractive industries were not exempt from these problems," said Minister at the Presidency of Mines and Petroleum, Joeli Lalaharisaina. "Laws were not respected as they should have been and strict controls became difficult to implement, so it's fair to say that during this period, the sector was left to stagnate."
International donors were spooked and Madagascar's membership of the Extractive Industry Transparency Initiative, an organization that promotes accountable management of natural resources, was suspended.
The turnaround came after the elections in December 2013. With renewed emphasis on stability and transparency EITI membership was re-established. "I am pleased that Madagascar is able to resume full membership of EITI," commented EITI Chair Clare Short. "They continued to push for transparency in the extractive sector even though they were suspended."
"That was indeed an important step and we have worked tirelessly to eradicate any and all examples of bad practice that we found," affirmed Lalaharisaina."Back in 2007, following a trip to Norway, I was one of the people that initiated the EITI program in Madagascar. Our reinstatement last year not long after the elections shows not only our firm commitment to the principles outlined by the EITI, but also the level of interest the international community has in helping Madagascar develop its resources fairly and transparently."
The key to regaining the trust of the international oil and gas companies is the imminent implementation of a new petroleum code, the objective of which is to pave the way for further investment in the sector as the government prepares to issue three onshore and up to 50 offshore licences up for auction. The history of oil in Madagascar has been largely one of exploration, but as it moves towards a developmental phase, you would expect the nation's lawmakers to look at its laws and amend them to reflect the new commercial and political realities.
"To continue to develop our resources we require levels of investment that as a country we are unable to provide alone," continued Lalaharisaina, "so we are open to foreign investors as long as they respect our laws. Because these resources are non-renewable, it is vital for future generations that we establish a framework that will benefit the nation. We are fully aware that when investors come here they are seeking a return on their capital, but the guiding principles in drawing up the new code is to balance the needs of the country with the requirements of international oil and gas companies to create a win-win situation for all parties. The details of the new code are still being discussed, but it will offer several incentives, for example,companies will be VAT exempt during exploration phases and the terms of the licences will vary according to the costs associated with each project. We have already had a lot of interest from international companies, among them Chinese companies, so I now consider it a priority to have the new code passed into law so we can progress. If all goes well, we hope to have it all wrapped up well before the end of the year."
"Madagascar is a land of opportunity blessed with huge resources and we welcome investors in this sector with open arms," said Lalaharisaina.
Asia International Reports Ltd provided this story.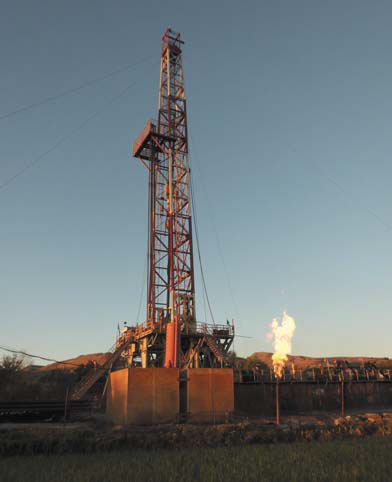 A drill extracts oil in resource-rich Madagascar. Photo Provided to China Daily
(China Daily 04/22/2015 page20)