Amendments in a new draft of the revised Patent Law focus on increased protection, patent commercialization and administrative services, said a senior official at the State Intellectual Property Office.
The new draft was based on the version sent to the State Council in early 2013 for approval and it was released on April 1 to solicit opinions. The new draft addresses challenges in legal protection, such as difficulties in collecting evidence, insufficient compensation and high costs, Song Jianhua, director of SIPO's Law and Treaty Department, said at an IP forum on April 20.
Courts can order suspects to provide financial records and other evidence if rights owners have already made failed efforts to access them, according to the draft.
"We also suggested punitive damages, about two to three times compensation, in the case of malicious infringements," Song said.
The amended draft also has added regulations about online counterfeit cases. Amid a period of booming e-commerce, Internet service providers need to shoulder obligations to prevent and control illegal dealings online, she said.
Yang Wu, president of the All-China Patent Attorney Association, said, "Against the backdrop of a national innovation-driven strategy, the planned amendments show a higher demand for patent protection and utilization in our country."
The move in legislation signals China's active involvement in the changing global IP system, Yang said.
Developed and developing countries have differing patent protection circumstances - the former often have "stronger enforcement" while the latter often lean towards "weak" enforcement, he said.
As a growing number of Chinese companies have stronger performance in the international market and ask for stronger IP protection, the protection in legislation needs to shift from a minimum World Trade Organization standard to a higher level, he noted.
Zhu Xuezhong, a law professor at Tongji University, said the revisions would not only keep China's legal system in line with global trends but also help meet demands from within the country.
New provisions in the draft, such as partial industrial design and protection of diagnosis and treatment methods for animal or plant diseases, indicate encouragement for the growth of related industries, Zhu said.
He particularly praised a new chapter of the draft, which is dedicated to patent utilization.
"A patent's value lies in its commercialization and utilization, rather than protection," Zhu said.
"Commercialization is key for our country to move from a large patent producer to a strong innovation country," he noted.
Yan Xin, director of the Beijing Division of the IP Department at Huawei, a telecommunications giant headquartered in Shenzhen, Guangdong province, said the design of the lower edge of a cellphone, known as a phone's jaw in the industry, was an example of how introducing partial industrial design to the law would better protect innovations.
Huawei proposed the national innovation-driven development strategy and is also a beneficiary of the patent system.
The company invests at least 10 percent of its annual sales revenue into research and development. The company's R&D expenditure was 40 billion yuan ($6.45 billion) in 2014 alone, which meant its accumulative spend on innovation during the past decade surpassed 190 billion yuan.
Thousands of patents granted worldwide allow the company to access markets around the globe, Yan said.
He also said he supported the addition of the administrative services section in the draft that detailed what the related authorities' responsibilities are.
Related administrative departments should provide basic patent documentation and data, which is valuable to industries and helps improve innovation, Yan said.
Song said by providing documentation and data the concept of "rule by law" would be promoted and would help build a service-oriented government.
Zhu said the distinction between administrative services and commercial operations should be made clear and that "public services cannot overstep the boundary to replace market businesses".
wangxin@chinadaily.com.cn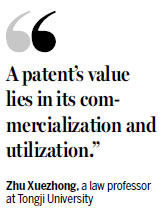 (China Daily 04/22/2015 page16)