BMW Group China President: market will continue to grow
German auto giant BMW is expected to catch the limelight at the Shanghai Auto Show running from April 20 till 29, with its trend-setting philosophies and innovations.
Karsten Engel, president & CEO, BMW Group Region China, told China Daily that BMW fans would see one world premiere product, theBMW X5 xDrive40e; two Asia premieres, the BMW 2er Gran Tourer and a mid-cycle upgrade of the BMW 1 Series; and two China premieres, the BMW 6 Series and BMW M6. In the world of 2-wheel driving pleasure, there will be two Asia premiere motorcycles, the BMW S 1000 RR and BMW R 1200 R.
MINI fans will have the opportunity to appreciate the exciting world premiere of MINI Augmented Vision, a high-tech personal wearable device, and two China premiere vehicles, the MINI John Cooper Works and MINI Countryman Park Lane.
The fabulous lineup indicates BMW's underlying philosophy, products and innovative technology and its long-term commitment to the Chinese market.
"Besides premium products, BMW is also the provider of premium mobility services and a pioneer in vehicle connectivity," Engel said.
With the BMW i and the following PHEV models, BMW launched 360-degree electric services to support individual e-mobility.
The brand has also launched its BMW ConnectedDrive Store in March, which once again makes BMW the first premium auto brand to provide on-board ordering and payment functions in the China market, following its successful launch of the full package of BMW ConnectedDrive services in 2012.
"We've introduced the latest products and technology into China to satisfy the growing demands of customers, as part of our commitment to the market," Engel said.
In addition, the company has begun to incorporate the unique demands and future trends of the China market into its research and development.
"For example, we have entered into cooperation with Baidu and relevant scientific institutions in a research project into Highly Automated Driving for Chinese roads," the CEO said.
There is a Chinese saying that good news should arrive in pairs or even a flock.
BMW has a flock of such news for Chinese customers - starting from May 2015, BMW will provide a basic ConnectedDrive package for new cars free of charge for 10 years, including emergency calls, breakdown calls, teleservices, hotline service and the ConnectedDrvie Store, which will further enhance the safety and convenience of BMW products and services.
Outlook, strategy
BMW is confident it will achieve qualitative and sustainable growth in 2015 and beyond in the "normalized" Chinese market, Engel said.
The company delivered 2 million vehicles in China by the end of the first quarter.
The strong market performance indicated the automaker's confidence in China, and the CEO said the country is the "most dynamic market in the world, given it has the largest market base".
He forecast that the auto market would grow at a single-digit rate until 2020.
In its product offensive, more than 10 new products will hit the market, most of which are displayed at the Shanghai show, and BMW will enhance its SUV and premium compact segments.
Speaking of the marque's strategy for sustainable success in 2015, Engel said: "Innovative strength drives business success and sets BMW ahead of its competition."
This year, BMW is taking the lead in its drive for innovations to offer the best mobility solutions, which include the following:
BMW X5 xDrive40e: the first X-model with eDrive, a BMW i technology and expertise transferred to the other BMW products, illustrating the NEV strategy of the Group.
MINI Augmented Vision: an innovative mobility experience in connectivity and information display for more safety and comfort;
Innovation in marketing communications, such as BMW being the pioneer of experiential marketing. Destination X began on April 19 and Mission 3 kicked off in March, which are the most successful experiential events in the industry.
Innovation to continuously improve customer satisfaction, exemplified by the Brand Experience Centre, under the Future Retail project, and cooperation with Tmall, China's top online sales website for brand-name companies.
Prioritizing customers
To aid growth in its product offensive, the company boasts that its dealership network continues to grow in flexible formats and it provides special support to young dealers.
"We will support dealer business transformations and have simplified the key performance indicators setting to help dealers focus on business operations," Engel said.
In the company's continuous efforts to remain one of the most desirable premium auto brands, BMW announced it has held hallmark experiential marketing events, such as Destination X and Mission 3, and digitalized customer communications via social media channels, such as being the first auto brand to create an ad on WeChat in January.
The CEO stressed that the company expects to cement its foothold in the country in the field of customer satisfaction.
"A larger customer base generates greater responsibilities and opportunities in the field of after-sales. BMW ranks at the top in terms of customer satisfaction over the past two years. We hope to enhance our leading position, as customer satisfaction is a decisive factor for the long-term success of any brand," he said.
Leading force of e-mobility
BMW is the leading force in e-mobility development in China with a clear strategy and tactics, which include EfficientDynamics as its umbrella philosophy and pragmatic tactics since 2007 - from Project i and the MINI E field trials to BMW i products.
"Currently the focus of the company's EfficientDynamics strategy is electrification of the power train," Engel said.
The route to sustainable mobility in the future will be multi-track - already efficient combustion engines will become even more economical; all-electric vehicles like the BMW i3 are being tailored to meet urban mobility requirements; and plug-in hybrids are now more appropriate for long-distance journeys.
"In the long term, electric mobility in conjunction with hydrogen fuel cell technology could also be a viable option," the CEO said.
"Our vision of e-mobility in China is that, through partnering with the energy companies and service providers, we will build up a seamless ecosystem to foster the new-energy vehicle market. The whole ecosystem will provide the convenient customer experience of electrified mobility, from products to services," he said.
The company has strategic partnerships with SGL on carbon fiber reinforced plastic, with Samsung on lithium-ion batteries, and with Toyota on fuel cells.
Touted as a visionary and active e-mobility service provider, it has a visionary 360-degree electric service concept for convenient e-mobility and an active role in e-mobility development.
As part of BMW efforts on public charging facility construction, ChargeNow, an intelligent public charging concept with Sino-German charging standard interface, will be available in China in 2015, Engel said.
"We also have car-sharing, electric vehicle rental and leasing businesses, with more BMW i dealerships in 2015, up from the current 11 dealers in seven cities," he said.
Contact the writers at gongzhengzheng@chinadaily.com.cn and yangcheng@chinadaily.com.cn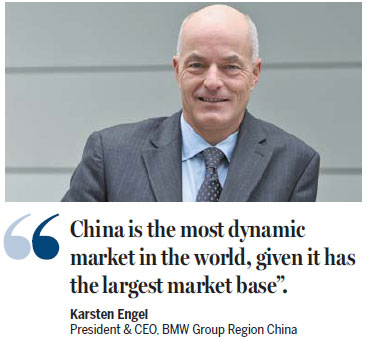 (China Daily 04/20/2015 page3)