Iconic British carmaker expands, continues pursuit of excellence, quality and tradition in world's biggest auto market
At the 16th Shanghai auto show, which starts today, Jaguar Land Rover will reaffirm its commitment to the Chinese market.
The premium automaker will demonstrate its dedication to its customers by bringing 21 models to this year's show.
Among the vehicles on display, Jaguar will showcase the ultimate blend of unparalleled design and sporty handling in its new business sports car - the All New Jaguar XF. The breath-taking Range Rover Sport SVR will also make its China debut.
"The desire for high-quality, premium vehicles with a strong brand heritage places Jaguar Land Rover in a prime position to take advantage of this growing market," said Bob Grace, regional president of Jaguar Land Rover Greater China.
Jaguar Land Rover set its sights on leading China's premium sports utility vehicle market, and its first local plant will allow the luxury brand to meet its customers' unique requirements faster and more effectively.
The automaker's investment in its first overseas manufacturing facility in Changshu, in East China's Jiangsu province, expansion of its local dealer network, strong product roadmap tailored to local customers and continuous innovation are expected to harvest long-term growth.
"Since Chery Jaguar Land Rover was set up two years ago, the world-class manufacturing facilities and production technology, globally unified standards and management team have all been developed," said Zhu Guohua, deputy president of Chery Jaguar Land Rover.
"As the first model for CJLR, the China-built Range Rover Evoque combines authentic Range Rover DNA and innovation at its heart, with luxurious refinement, leading technology, world-class quality and versatile all-terrain capabilities. The locally produced Range Rover Evoque also provides more features and choices specifically to the needs of our Chinese customers," he added.
In the next two to three years, Jaguar Land Rover's total global investment will reach 34 billion yuan ($5.57 billion), which will allow the company to focus on further product development and expansion to improve the performance and make it even more responsive to customer needs.
The company recently announced a 5.5 billion yuan investment into research and development at three sites in the United Kingdom: Castle Bromwich Advanced Manufacturing Plant, Whitley Advanced Design and Development Centre and the National Automotive Innovation Centre.
"I feel exceptionally grateful to our Chinese customers, whose enthusiasm and trust drove us to push ahead in this market. In the future, we will continue to serve the market with advanced technology, cutting-edge design and unwavering commitment," said Grace.
This commitment will be reinforced by 50 product upgrades over the next five years, which will greatly increase the product lineup that Jaguar Land Rover can offer Chinese customers.
The company is also moving into new segments, to cater to a broader spectrum of tastes in the market, with its all-new Jaguar XE and Land Rover Discovery Sport.
With the strongest product lineup in years on display at this year's auto show, Jaguar Land Rover has produced a portfolio that will entice many more Chinese consumers in years to come.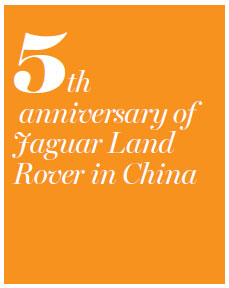 (China Daily 04/20/2015 page23)