Heilongjiang focused on transport, logistics, Russian ties to open-up and develop, Tian Xuefei and Song Mengxing report.
Heilongjiang province in Northeast China plans to boost construction of the Heilongjiang Land and Maritime Silk Road Economic Belt, part of the country's "One Belt, One Road" initiative proposed by President Xi Jinping in 2013.
The initiative refers to the Silk Road Economic Belt and the 21st Century Maritime Silk Road, which run through Asia, Europe and Africa.
Wang Xiankui, Party chief of the province, said on April 13 that the central government supported Heilongjiang's project and included it in the "China-Mongolia-Russia Economic Corridor" within the initiative.
"Heilongjiang's government will set out a plan to help the province build an opened-up economic system."
The Heilongjiang economic belt will center on Harbin, the capital of the province, and will serve countries and regions in Northeast Asia as well as Europe. Building the economic belt will involve railway and port infrastructure construction, development of the logistics industry, especially cross-border railway services, and opening-up industries as well as construction of financial service platforms.
The economic belt will depend heavily on railways in the province, including the route from Harbin to Heihe city and the Trans-Siberian Railway to Russia, as well as highways, waterways and air routes for cargo transportation between Asia and Europe.
The province will improve its railway services to European countries as well as joint rail and water transportation to Japan and South Korea.
It plans to upgrade 10 railway sections, covering 1,020 kilometers along its border, and build some other sections to allow trains to run faster.
Trains will operate at speeds of up to 120 km/h on a 2,938 km stretch of railway line along the province's border.
Heilongjiang's government hopes the National Development and Reform Commission and China Railway Corp will include the project in China's medium and long-term railway network plan and the country's comprehensive transport plan during its 13th Five-Year Plan period (2016-20).
The railway project will be completed in different periods within the next five years and when complete is expected to be an important part of the opening-up and development in regions along the province's border. The province then hopes to foster better economic and trade partnerships between China and Russia and become an economic region integrating production, trade and transport to play an important role in the One Belt, One Road initiative.
It plans to help construct and operate domestic and external ports and increase flights to Russia and Northeast Asia.
While building the economic belt, Heilongjiang's government also plans to promote construction of supporting facilities and work on energy and environment protection cooperation with other countries and regions in Northeast Asia and Europe, as well as cultural, scientific and technological exchanges.
The province hopes more large logistics companies and comprehensive logistics industrial parks will help the development of commerce, trade and logistics on the Heilongjiang economic belt. The provincial government plans to boost construction of the Harbin railway container distribution center to help it become an international logistics platform.
It will also further develop the cross-border container transportation industry to attract multinationals and build the province as a bonded storage center for domestic and foreign trade companies.
The government has applied to build the Harbin comprehensive bonded area and is preparing to ask for the central government's approval for the Daqing comprehensive bonded area. It is also working to improve the Suifenhe comprehensive bonded area to help it play a better supporting role in Heilongjiang's opening-up and economic development.
The province wants to promote development of its opening-up industries when building the economic belt and plans to boost construction of overseas industrial parks to attract domestic as well as foreign projects. Construction of financial service platforms in Harbin will help the city become a regional financial service center among countries and regions in Northeast Asia. Party chief Wang suggested local government agencies involved in construction of the economic belt should research national strategies and policies for implementing the One Belt, One Road initiative and try to make Heilongjiang's policies and projects part of national plans.
Sino-Russian ties
Heilongjiang will build the economic belt within the China-Mongolia-Russia Economic Corridor to facilitate exchanges and cooperation between China and Russia, Lu Hao, governor of the province, told Russian news agency Tass, during this year's two sessions meetings.
Heilongjiang borders Russia to the north and east for a stretch of 2,981 km.
The province has become a key hub for China's opening-up towards Russia and Northeast Asia.
It is the biggest economic and trade partner of Russia among all provincial-level regions in China, local media reported.
Imports and exports between the province and Russia in 2014 accounted for 24.4 percent of total Sino-Russian trade.
The province's investment in Russia totaled $1 billion last year, accounting for more than 30 percent of China's investment there.
Song Kui, chief of the Heilongjiang Modern Sino-Russian Regional Economy Institute, said transport was key for better development of economic cooperation between the two countries.
Heilongjiang is building the Tongjiang Railway Bridge, the first railway bridge to connect China to Russia.
The bridge is due to come into operation next year and 20 million metric tons of cargo will go across the bridge each year.
The province is also preparing to build the Heihe Highway Bridge, which will connect Blagoveshchensk, the third-biggest city in Russia's Far East, to Heihe city in Heilongjiang.
Harbin Airport has eight air routes connecting the city to Russia and its sales volume related to Russia accounts for 85 percent of that in Northeast China.
Foreign Minister Wang Yi said during the two sessions in March that there will be more cooperation between China and Russia this year and the two will sign agreements within the One Belt, One Road initiative.
Song suggested the province should initially depend on infrastructure construction and logistics cooperation to boost construction of the economic belt and further promote cooperation between China and Russia.
A freight train full of oil exploration equipment departed from Xiangfang Railway Station in Harbin to central Russia on Feb 28.
The railway service reduced transport costs by 75 percent compared with air transportation.
Zhou Chunling, a member of the National Committee of the Chinese People's Political Consultative Conference, said that as Heilongjiang is building the economic belt, the province can better use Russian resources to import raw materials, process them in its bonded area and then export the goods.
The province can also jointly build plants with advanced manufacturers in Russia and sell products made in the plants in international markets, Zhou added.
Contact the writers at tianxuefei@chinadaily.com.cn and songmengxing@chinadaily.com.cn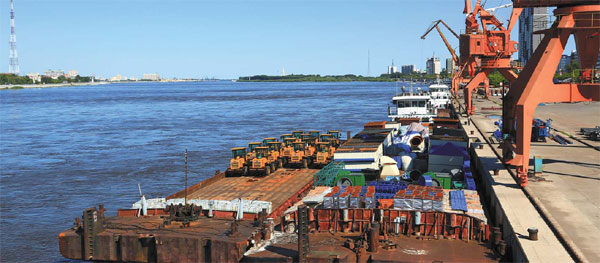 As part of the maritime silk road economic belt, Heilongjiang province plans to help construct and operate domestic and external ports. Song Laifu / for China Daily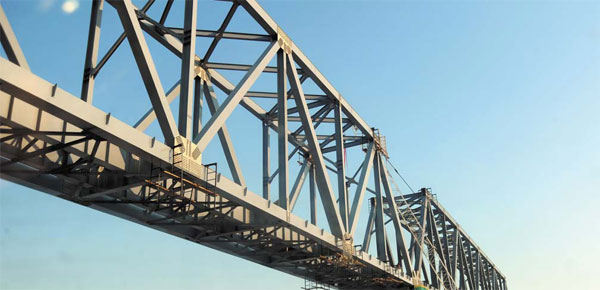 The Tongjiang Railway Bridge will be the first railway bridge to connect China to Russia. Shao Guoliang / for China Daily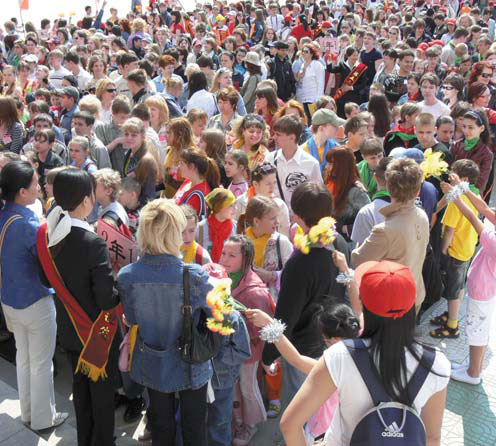 Chinese and Russian students take part in a cultural exchange activity in Heihe. Photos Provided to China Daily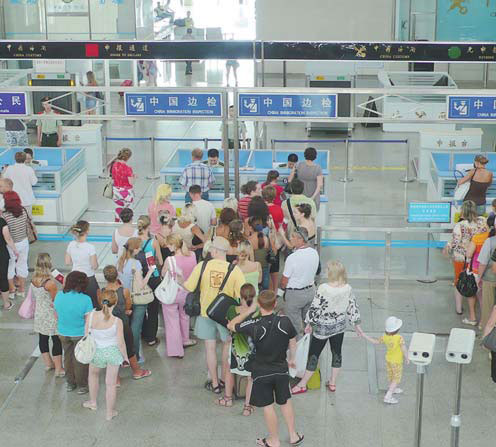 Tourists from Russia wait at Heihe port's immigration control.
(China Daily 04/17/2015 page10)