MasterCard champions SMEs for a sustainable Silk Road
International payment provider MasterCard has solutions to connect businesses with the world's fastest payment network and effective financing solutions that only an open payment system can bring.
The company believes that the "One Belt, One Road" vision of interconnectivity could create a new normal, but that local enterprises and SMEs will drive sustained innovation and bring real opportunities to the regional lack of access to finance.
MasterCard is championing the role that SMEs will play in the sustainable development of the Silk Road Initiative at this year's China Development Forum.
About 99 percent of businesses in China are SMEs and they contribute two-thirds of the nation's exports and create three-quarters of the nation's new jobs.
However, SMEs face huge hurdles on their way to becoming successful businesses.
In China, only 10 percent of SMEs have access to credit and local SMEs face a total credit gap of more than 350 billion yuan ($57.3 billion), according to the World Bank's International Finance Corporation.
It takes an average of 55 days for them to obtain invoices for international trade.
They face high costs when carrying out cross-border trading and improper lending often leads them to default on loan payments and prematurely close shop.
By connecting to a global network built on open standards and the existing international system, many of the problems that SMEs face can solve themselves.
MasterCard helped to build this international system since the EMV standard developed by MasterCard has already been applied for 15 years. And its network provides the foundation for innovative companies such as Basware to create Basware Pay.
Using MasterCard's virtual card technology Basware Pay opens up previously non-existent business opportunities, which support local growth.
Basware Pay can reduce the time it takes to receive a B2B invoice from 55 days to just one day.
This not only reduces stress on an SME's budget but speeds capital through the entire supply chain, making it more robust.
Basware connects close to 1 million businesses across 100 countries and leverages the MasterCard network to process more than 80 million transactions per year across borders and in multiple currencies.
MasterCard's open system also enables operations like the Entrepreneurial Finance Lab (EFL), which originated in the Harvard Center for International Development, to easily connect banks and other financers to SMEs in 27 countries across the globe.
With the data from MasterCard's network, EFL has reduced default rates by 40 percent and tripled loan volumes for budding SMEs.
Using MasterCard's open, omnilateral system innovative businesses like Basware and EFL can flourish, in turn nourishing the entire economy.
They increase efficiency, reduce friction and support easier access to low-cost working capital.
Government support can give select businesses a leg-up, but it is more sustainable in the long run to try to bring the hurdles down through opening up the system.
zhuanti@chinadaily.com.cn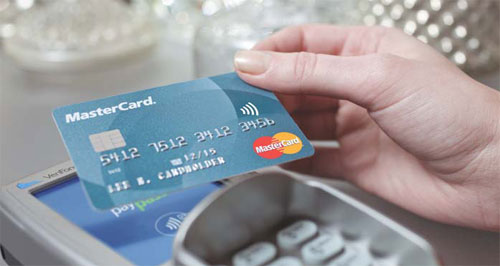 MasterCard's contactless bankcard allows cardholders to simply tap their card on the pay terminal to make secure payments. Provided to China Daily
(China Daily 03/23/2015 page7)
Today's Top News
Editor's picks
Most Viewed