Mozambique's national tuna agency Ematum is on a mission to attract investment that will help it to reach its target of stimulating the tuna industry in this part of the world. Mozambique boasts huge potential in this field, and the fisheries sector is on a mission to be one of the main drivers of the Mozambican economy. InFocus caught up with the dynamic head of Ematum, Antonio do Rosario, and talked to him about his vision for the agency and for Mozambique.
"Mozambique achieved a state of peace in 1992 and decided to move along the path of prosperity. We moved forward quickly thanks to the support and cooperation of our international partners, especially China, a nation that we call a friend.
"By then, one of our main challenges was to develop a strong fisheries sector-we looked upon it as one of the main drivers of the country's economy. Because of the international demand for tuna, and the fact Mozambique had a huge amount of this resource, we have welcomed many foreign flagged fleets during the past years.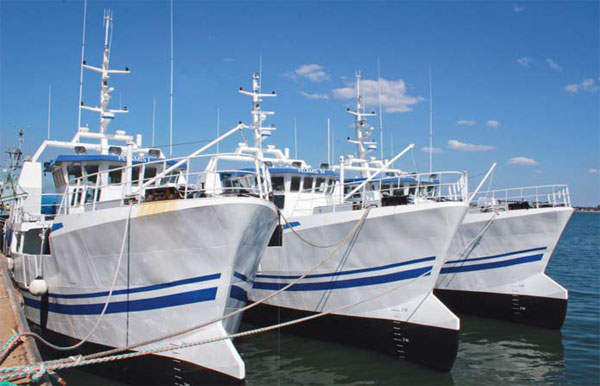 Three of the Mozambican fleet of specially-commissioned tuna vessels.
"This time last year, there were 130 vessels fishing in our waters, and only one was from Mozambique. That gave us an indication of how valuable the tuna fisheries sector could be.
"Mozambique is a member of the Indian Ocean Tuna Commission (IOTC) and with what was happening, we were risking losing our tuna-fishing quota if we didn't develop a sustainable industry. The business viability studies we had done indicated that we could earn about $200 million per year if we put in place a fleet of about 20 vessels. Based on that, a strategic plan was approved by the government in July last year to establish a national tuna fleet.
"Despite having a 2,800 kilometer-long coastline and huge marine resources, we still have challenges from the point of view of food security. So, why not embark on such an ambitious project-a project that would allow us not only to fish, but to create a whole value chain in the tuna industry, which will have a multiplier effect in our economy.
"Our challenge is to serve the tables of Mozambicans with the world's best quality of tuna, creating the brand: 'Made in Mozambique'.
InFocus: As you know, there are many places in the world where tuna is caught in the high seas and processed and exported directly from the same vessel. When this happens, local populations do not usually receive the benefits. How are you going to prevent this from happening in Mozambique?
Do Rosario: We are creating the conditions to establish fishing ports for landing, processing and distributing tuna. We anticipate three major harbors in our plan: Maputo in the south, Nacala in the north and Beira in the central area. At this moment in time, most of our activity is focused on Maputo, where the infrastructure has already been created. We will use this experience to design the infrastructure in the other ports.
InFocus: China is going to invest $120 million in the modernization of the port of Beira. How important is Chinese cooperation for the development plan of Ematum?
Do Rosario: It's crucial, because we can't develop all the infrastructure needed in the first phase. We have to take advantage of this infrastructure to sustain our growth. Right now we are in Maputo because the infrastructure is there. If we had to build the infrastructure from scratch, we would be forced to deviate from our core business construction.
InFocus: What is the core business of Ematum at this moment?

Do Rosario: Fishing, semi-processing and commercialization of tuna. Tuna is a species that, after being caught, goes though several stages of processing and storage depending on the client. For instance, the chain for sushi requires exceptional care and a certain kind of processing and storage from the time it is caught. There is a different type of processing if the tuna is going to be canned or sold to restaurants that want the fish to be grilled. By the end of 2015, we'll have a fleet of 24 vessels focused on the requirements of each client.
InFocus: During the past few months, Ematum has made important investments to acquire ships and security devices in order to avoid piracy. Have the efficiency and security of your catches improved due to those measures?
Do Rosario: In the beginning, the idea was to guarantee the security of the fleet. That involved having the correct equipment. We had a piracy attack on one of our foreign vessels in December 2010. That was a wake-up call and a shock for the industry, so we decided to implement a protection system for our fleet to prevent it happening again. Nowadays, security is the responsibility of the Ministry of Defense. We catch the fish and the government takes care of our fleets' safety.
InFocus: Tuna consumption has grown significantly in Asian markets. How will this affect Ematum in terms of exports?
Do Rosario: China has enormous potential for us. We are talking about a market of 1.4 billion people. If half the population consumed our tuna, we would not need to export to any other markets. We catch tuna with just 24 ships, but we should not stop there - there is a huge opportunity for growth, so our capacity can increase a lot.
We are more than keen to establish contact with the Chinese tuna market. Ematum would be very pleased to have a dialogue with any delegation interested in the capture of tuna in Mozambique. If a Chinese investor came asking for a delivery of our product in the port of Maputo, with a specific set of conditions, we will satisfy that demand and deliver the requested amount of tuna, with the established price and conditions. If the company wants the tuna processed in Mozambique, we are keen to offer that as well. And if they want the product sent directly to China, we can deliver. Our aim is to satisfy the requirements of each type of client individually.
(China Daily 03/11/2015 page6)